Thanksgiving is upon us and so is the start of the holiday season - which means the start of online shopping deals that are too tempting to be ignored. Black Friday marks the unofficial beginning of the Christmas shopping season with the online sales extending through the weekend up till Cyber Monday. E-commerce businesses are gearing up to rake in the moolah, as the last holidays of the year are the busiest with more people turning up to the web and mobile devices to complete their holiday shopping.
"Online shopping is expected to rise this holiday season with a likely 18 percent increase, compared with the 16 percent increase in 2015." - Visa
In addition to this Visa estimates that nearly half (47%) of consumers will shop online this season, 33 percent of them from mobile devices. According to Visa's consumer study, 33% of those consumers shopping online will use their phones and tablets for making their holiday purchases and nearly a quarter of those consumers will be millennials i.e they will be between ages of 18 to 34.
While the consumers and businesses are thankful for the shopping bliss that this season brings along, cyber criminals, on the other hand, are getting proactive to lure them with their scams and exploit them. We have seen in the past how some of the E-commerce giants like eBay, Target, Starbucks, Zappos etc. have fallen prey to the malicious intents of the hackers which led to some serious business implications and bad PR. We further did a research of our own and released a global report, which showed that 95% of global E-commerce apps fail basic security checks.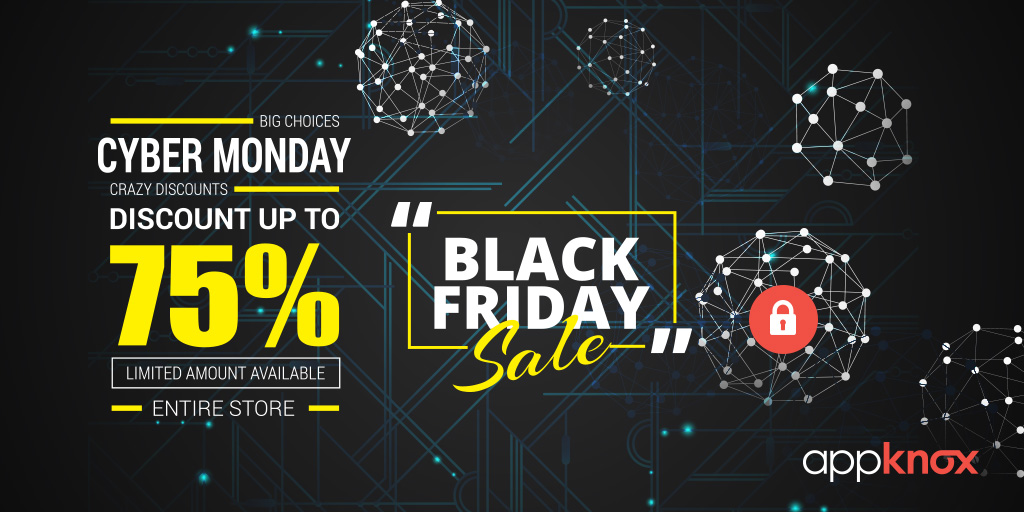 Here are 7 cybersecurity tips for Black Friday and Cyber Monday to keep you safe in this holiday season
1) Be aware while using public WiFi as they pose a major security risk
Do not conduct sensitive activities such as online shopping, using a public wireless network as they pose a major security alert. Free WiFi networks are a hacker's paradise owing to lack of proactive security.
2) Ensure that the E-commerce website has an HTTPS connection with a valid encryption certificate
The data that is sent over a regular HTTP connection, between your browser and the E-commerce website that you are connected to, will be in plain text and therefore can be read by any hacker looking to exploit you. Hyper Text Transfer Protocol Secure (HTTPS) is the secure version of HTTP, where all communications are securely encrypted.
For the implementation of an HTTPS connection, you will need a valid SSL certificate.
3) Be cautious about offers online - if it sounds too good to be true, it probably is!
Beware of the deals that are too good to be true as there's a high probability of you getting scammed! Fraudulent scammers pretend to be legitimate online sellers by using a fake website or posting a fake ad that looks too tempting to resist.
"There is no such thing as a FREE iPhone 7. You ain't that lucky even if you were pretty optimistic at that moment."
4) Keep changing your passwords from time to time
Ensure that you use different passwords for different E-commerce websites and mobile apps. Make use of passwords that are complex and unique in nature.
5) Think before you click
Use caution while clicking on any unknown links. Delete emails that seem suspicious or are from unknown sources. Scammers would make use of your email address to send shopping deals or discount coupons that look genuine in nature.
6) Limit the amount of information you post online
When you create a new account on any E-commerce app or website, ensure that you just provide your basic information required to get your account active. There is no need for you to answer security or privacy questions while making a purchase or checking out on the E-commerce app or website.
7) Review and understand the details of an E-commerce app before downloading
Always make it a point to download mobile apps from the official app stores or the official website of the E-commerce retailer. Be aware of the what information or app permissions are being asked, before you click on the download button. Avoid downloading apps from third party play stores as threat actors make use of the festive season to create fraudulent apps that look as if they are associated with the real brand.
"1 in 10 mobile apps out of the 5,315 total that can be found searching "Black Friday" in global app stores is blacklisted as malicious, or apps that can trick users into downloading malware, giving up their login credentials and credit card information." - RiskIQ
Bonus tip - Maintain an open dialogue with your family, friends, and colleagues about cybersecurity.
I hope these cybersecurity tips for Black Friday and Cyber Monday would help you to stay ahead of the security curve. For more such best practices and security tips, subscribe to our blog below or contact us at www.appknox.com
Here's wishing you all a Happy Thanksgiving. Stay safe, secure and proactive always!