Techventure 2015
Techventure 2015 is the leading tech startup event in Asia. Running in its 18th year, Techventure is the key platform to where the best technopreneurs and investors meet to network and build partnerships and translate innovative ideas into reality. The diverse nature of this event has gained for itself international traction, allowing it to be become the most prominent Asian tech start-up and investor event held annually in Singapore.
More than 1,000 attendees, comprising technopreneurs, venture capitalists, corporate ventures, angel investors and government funding organisations from around the world will gather between September 21-22 for this global event in Marina Bay Sands, Singapore.
This year, Appknox is exhibiting at this powerhouse event to spread awareness about the importance of mobile security and its ecosystem. We will be at Booth B6 of Simpor Hall, Level 4, Sands Expo and Convention Center.
The Cyber Security Show 2015
The Cyber Security Show 2015 is a forum for business leaders and cyber professionals across all sectors to share their key security challenges and to debate on topics critical to their success. The aim of this event is to protect, detect and respond against cybercrime.
Around 32 exhibitors, 300 conference delegates and 1000 attendees will be present at this powerhouse event in Suntec Convention and Exhibition Centre, Singapore from 22-23 of September.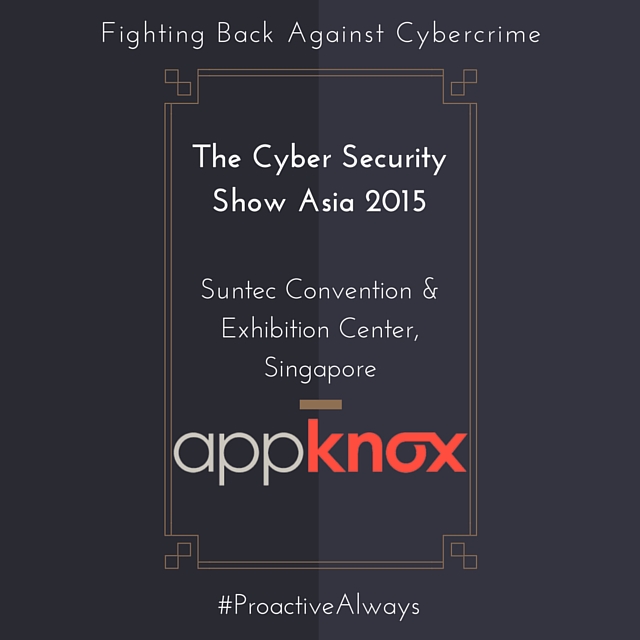 Appknox Co-Founder & CEO, Harshit Agarwal will be at the event to discuss a short case study about one of the largest taxi aggregators and how Appknox found a major threat in their mobile app, something that could have terribly damaged their business and loose millions of dollars.
With BYOD, IoT and Mobile Banking trending worldwide, the need for mobile security becomes much more critical. We at Appknox are proactive always towards mobile security. Like and Follow our Facebook and Twitter accounts to stay updated about Appknox and future events.