Today from the Internet of Things, we bring you the world's first smart and connected luggage. It's making waves for it's revolutionary features which enables travellers to experience a seamless travel experience. Forbes has rated it as the top innovative product of 2014.
What is Bluesmart?
Bluesmart is a high-quality carry-on luggage which has been reimagined for the smart and connected generation. Its high end features allows you to travel like a boss. One of the best things about Bluesmart is that you can control it through your phone. From the app you can lock and unlock it, weigh it, track its location, be notified if you are leaving it behind and find out more about your travel habits. You can also charge your phone 6 times over with a built-in battery. Isn't that awesome?
Kickass Features
Lock and unlock from your phone: Now put your mind at ease while travelling as you can lock your suitcase via your smartphone, if you get separated from your Bluesmart. You can control it to be accessed only by people you trust and you will receive a notification anytime someone attempts to open the suitcase.

Built-in digital scale: You can travel hassle free without worrying about checking the weight of your bag. Bluesmart has a built-in digital scale so you can find out its weight and whether it's approved by the airline. You just need to pull the handle and the app will tell you if you are ok to go. Isn't it amazing?

Built-in battery to recharge your devices: Bluesmart includes a super powerful battery charger that can charge two devices - whether it is your smartphone, tablet or ebook - at the same time. The suitcase battery will enable you to recharge your smartphone six times over. So you can Instagram your trip without worrying about your phone's battery.

Distance alerts: Never get separated from your Bluesmart. Thanks to the proximity sensors, you will receive alerts when you are separated from your Bluesmart. You can also locate your Bluesmart with a proximity heat map and receive a reminder of the last recorded location.

Location tracking: If you ever lose your Bluesmart or if it gets "re-routed", the Bluesmart network will help you track the location of your suitcase.

Handy access to your electronic devices: The awesome team at Bluesmart made it extremely easy to access your electronics with a compartment at the front of the suitcase, specially designed to hold and protect your laptop and tablet. You'll breeze through airport security like George Clooney in that movie.

Bluesmart carries Uber inside: Bluesmart has partnered with Uber to help you recover your lost bags and more.

Get a Bluesmart for Free Referring Friends: Give $20 in Bluesmart credit to your friends and you get $20 back when they buy.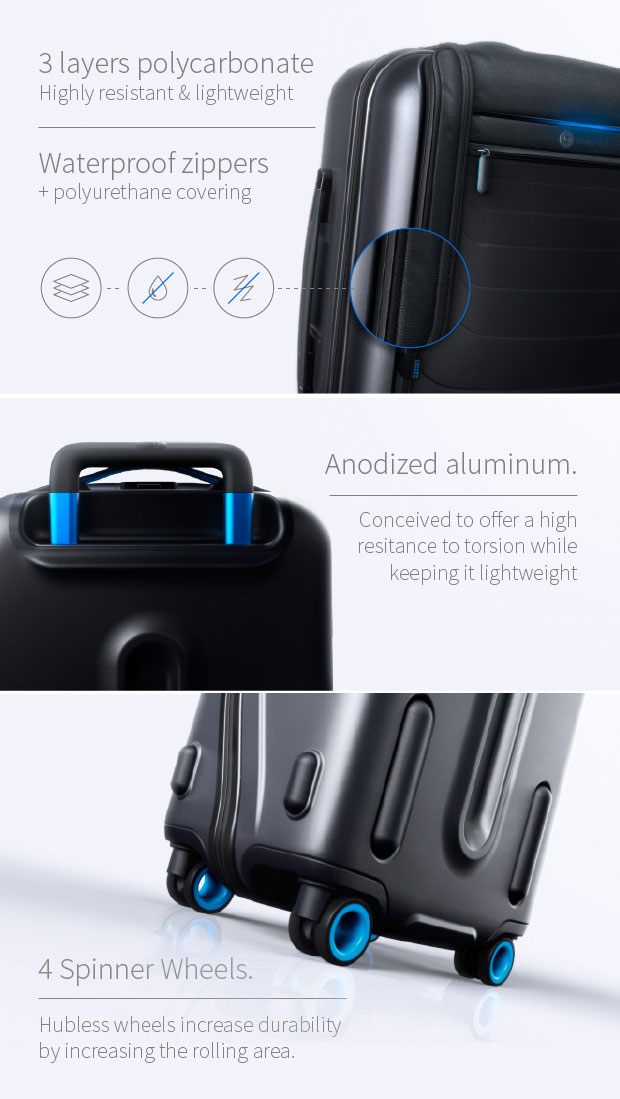 Know More, Travel Better
Getting real-time reports with trends and data from your trips, including miles travelled, airports visited, times spent in each country have been made easier with the Bluesmart app. You can get it for both iOS & Android platforms.
How cool would it be to have your own travel assistant? Imagine Bluesmart syncing to your calendar and to other travel services that you use so you can get reminders about when and what to pack. The team at Bluesmart will also develop apps for the smartwatch users out there, so you can control your suitcase right from your wrist and be the ultimate travel baller.
The World is Crazy About Bluesmart
"The travel hack to beat all travel hacks" - USA TODAY
"Changing the way we live our lives" - FOX NEWS
"The new carry-on that charges your phone and locks itself" - Bloomberg
"A host of features frequent travelers can't live without" - engadget
"A Carry-On Bag That James Bond Could Get Behind" - FAST COMPANY
"You'll never have to leave the lost luggage department with a crestfallen face" - TechCrunch
"Baggage blues no more" - Entrepreneur
"From a design perspective, perfectly made for the global road warrior" - THE HUFFINGTON POST
Powered By a Strong Community
Bluesmart was launched to the world through crowdfunding platform Indiegogo and they were amazed by the overwhelming support. They raised $2,120,633 from 10,651 backers from 120 countries, becoming the 11th most funded project ever on the platform!
Who knew a suitcase could do so much. Get Bluesmart and say no to luggage nightmares. With Bluesmart, you will travel smarter and be the coolest kid in the airport. Get set and travel like a James Bond!