Recently there has been endless debates as several e-commerce websites like Flipkart and Myntra are switching over to app usage only and bringing down their websites. According to these companies, both customers and businesses are going to benefit from this move because it offers more flexibility and allows customers to stay logged on at all times thereby increasing purchases. It offers a seamless personalized customer experience.
Mobile and Desktop websites are slowly fading away as most of the customers are adopting to shopping using applications. The move will also force the web users to download the application helping apps get more traffic. According to several market analysts, India is expected to have more than 500 million internet users by the end of 2018 and a majority of these users will access the internet on their smartphones instead of desktops. Myntra claims that 90 % of the traffic and 70% of sales come from the mobile application only and switching to an app only method of operation will be more beneficial in the future. It is better to shut down the site instead of generating poor and shabby desktop offerings and streamline the cost to the company.
This app only move is not a zero sum game. Increasing the usage of applications are catalyzing the move but this does not mean that number of desktop users have declined over the period. The move is also engineered by vendors enticing people to use the application by creating app only discount offerings skewing the traffic to mobile applications. The application experience is inferior in terms of search and comparison because of smaller screen size compared to that of desktops. 61% of the searches on the desktop resulted in local purchases compared to 78% of the searches on mobile applications. There is no significant difference among the both.
Some companies like Quikr are not considering the app only move because they receive purchases from rural areas as well as urban localities. People from the rural areas cannot afford smartphones and would rather use internet centers to make these purchases. The app only platforms can also be considered to be privacy invasive because of the various permissions and advertisements that need to be opted for during installations.
The app only move has generated several mixed opinions because of which some companies have decided to run both the website and mobile application to squeeze the maximum possible results. The move is risky because the increase in mobile traffic can be because of new users being added every year and not a shift from desktop to a mobile application. The app experience is not radically different from that of the desktop applications. Companies are mainly considering the move to reduce website maintenance costs.
"App-only is the way to go forward. We are speaking about new consumers who have never used a desktop. We just have 14 million desktop users as compared to 200 million mobile customers. More than 85% of our customers are mobile users. We will still keep our desktop platform, but mostly for testing purposes, as said by Vijay Shekhar Sharma, CEO of Paytm.
Umesh R, Growth Hacker at Appknox in his views mentioned that mobile apps is a trillion dollar market opportunity and the ability to reiterate through new releases faster is what is a key differentiator from websites.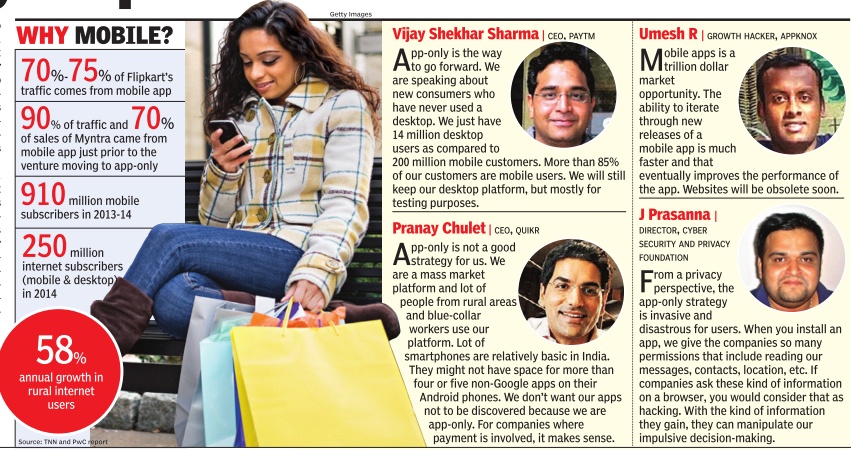 In a recent AMA with Bangalore Startups group, Deepak Abott - Head of Mobile & Growth for Times Internet, mentioned that mobile is the most dominant device in the hands of many Indians. We have 140 million smartphones out of which 70-80 million are pretty decent devices versus less than 15-20 million connected desktops in households. India does have infra issues but that's an interesting challenge for engineers to build apps for handsets with low space, slow connections. As far as the Flipkart app only move is concerned, he believes that it is an exception and it makes sense to focus all your energies on mobile & innovate but they can afford to have a small team continuing with desktop as well. Stop all marketing & innovation on desktop but let it run for the minority which is still comfortable.
As the mobile app race grows, everyone will shift focus to mobiles. While time to market is one of the most essential things to worry about, important things like data and privacy should not be left behind. India is a market that still has to define strong laws with security and compliances. It is important that companies understand the importance of security and implement it well so that mobile continues to be a growth driver rather than pull you down.