Today from the App Review category, we bring you an amazing app which briefs you on the people and companies you are about meet with, minutes before every calendar appointment. Isn't that cool and amazing?
Charlie - Impress Anyone You Meet
Charlie ensures that your meeting goes awesome by letting you know personal information about the people you are having a meeting with- like what you share in common, their professional background, their passions, company information, and more. Charlie combs through 100s of sources and automatically sends you a one‐pager on everyone you're going to meet with, before you see them.
Stand Out In Every Conversation
Charlie app ensures that you will the one people remember after your first meeting with them, as you talk about the things that truly matter to them. You'll know what makes them tick, what you have in common, and the critical insights on their company that your competitors won't. Goodbye competition, hello Charlie.
Save 30+ minutes Each Day
The research done by Charlie saves an average of 57 Google searches before each meeting. How awesome is Charlie? It saves around 30 minutes of your time each day.
Relax: Charlie Has Your Back
It's about 2 minutes left before your meeting and you haven't done any prep work. Are you freaking out? Now you don't have to worry as Charlie automatically sends you research before you walk in and emails you so you have no way of forgetting.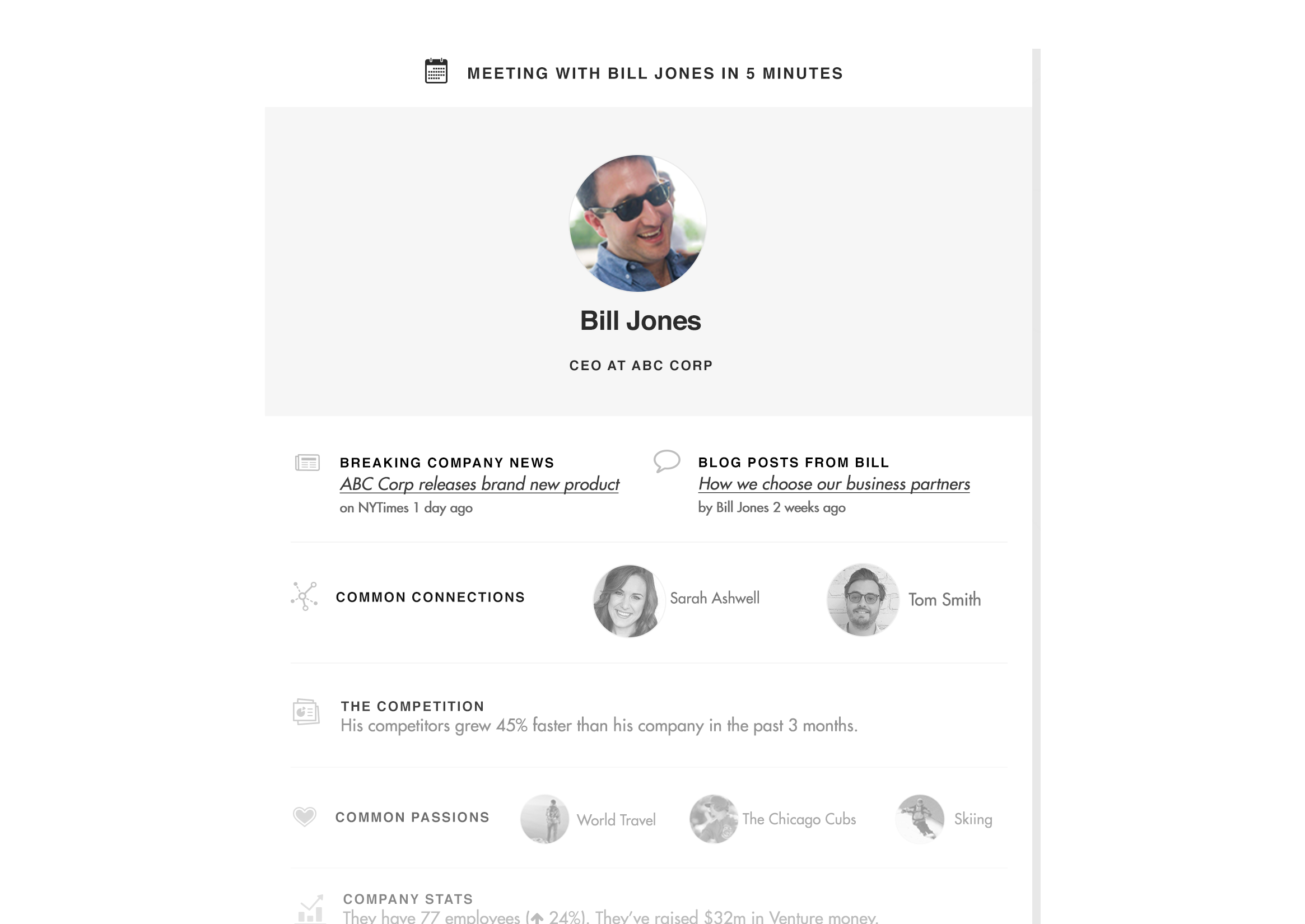 What People Are Saying
"4th Best Tech Tool for Growing a Smart Business in 2015" - Inc Magazine
"One of the World's Most Promising New Startups" - CNBC
"Charlie aided me in closing my biggest ever, multi-million dollar deal. With over 30 stakeholders, this tool was instrumental in keeping abreast of all the movers and shakers to get us to close." -
Beth England, Sales Director @ Hootsuite
"I feel naked going into a meeting without Charlie" - Tibor Shanto, Award winning author and sales expert
"Wouldn't have closed the deal without Charlie. The insights that Charlie App provided gave me the added knowledge to find the right point of contact at one of our most valued new partners." - Timothy De La Motte, Account Executive @ Groupon
"Charlie has given me the specific informational ammo to turn professional relationships a lot more personal and powerful." - Alex Solomon, Strategic Planner @ Ogilvy
Get Charlie For Your Next Meeting
Arm yourself with Charlie and never walk into a meeting unprepared again. Signup at charlieapp.com.