There is a major revolution in fitness and healthcare awareness because of the ever increasing rise in new lifestyle diseases. People require perpetual health monitoring systems to avoid risks and address health issues on the go. Patients make grave efforts to try and take control over their health by constantly looking for means of health and nutrition advice, monitoring devices and best practices. They require proper exercise advice to avoid groggy mornings and enhance their physical and mental strength. People are ready to cough up big bucks to get the best advice and suggestions to improve their health and everyday life. Health is the major priority. In today's hectic lifestyle, we all need motivation to stay fit and healthy. Today from the Internet of Things, we introduce you to the world of GOQii.
Welcome to GOQii Life
GOQii is not just a product but an entire ecosystem in itself, comprising of 5 elements. These elements have been carefully analyzed & researched to help you bring about a positive change in your lifestyle. They are: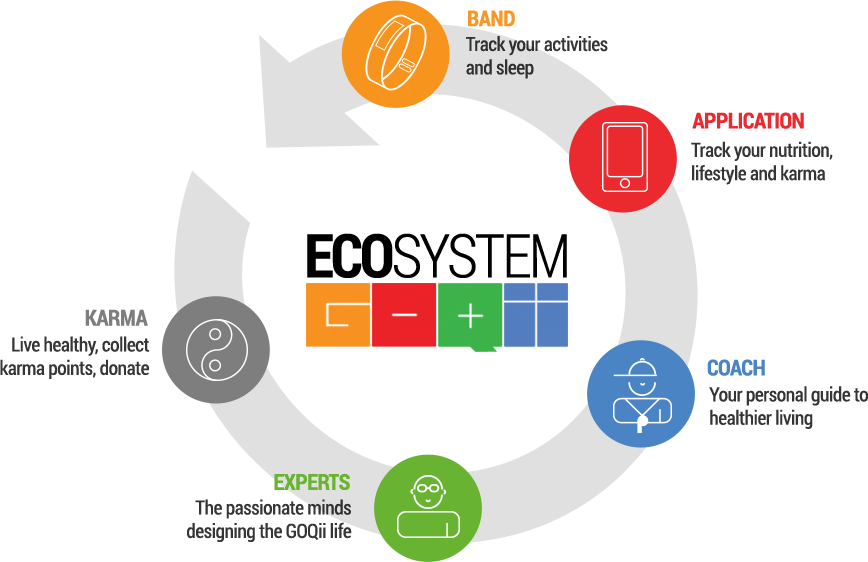 1. GOQii Fitness Band
GOQii band is an advanced fitness band which tracks your sleep and other activities. The best feature about this band is that it introduces a human element into the mix with a very unique service. GOQii makes it possible for wearable technology to meet the world's best experts and coaches, who work alongside to help you keep your workout goals and make a shift in your lifestyle.
Key Features
It's a universal unisex band which is secure and suitable for sensitive skin.

GOQii fitness band has a touchscreen OLED display and precision motion sensors and algorithms to determine the Time, Date, Progress, Steps Taken, Active Time, Distance, Calories burned, Karma Points, Time Asleep, Alarm and Goal Completed.

It is Bluetooth enabled to sync important information with the GOQii app on your smartphone.

Custom designed Vibra Humm is designed to wake you up at your desired time and reminds you to remain active through the day.

This wearable comes in 2 colors: Persistent Red-Black and Power Black. It is sweat-proof and water resistant.
2. GOQii App
The GOQii App is a medium to communicate with your coach. It serves as your own personal health and fitness dashboard. The app transforms your raw collected data into meaningful analytics for the coach and you. It's available for both Android and iOS platforms.
Key Features
The GOQii app automatically syncs important data with your band and enables you to chat with your fitness coach.

Tracks your steps and sleep. It even logs your meals and water intake.

You can view your health history anytime, anywhere.

Set alarms on your band.

You can donate earned karma points through the app.
3. Fitness Coach
One of the best things of joining the GOQii lifestyle is that it connects you to the personal coach of your choice who can help you improve what is most important to you. They will align your data to your goals through support, knowledge and motivation, so small changes will make a big impact. Like they say - "Be the Force".
Why Coaching?
Working with a personal coach is important as it's the best and easiest way to improve your health and fitness. GOQii has established a high quality, sustainable, holistic approach to your total wellbeing as it combines coaching with fitness tracking and the science of behavioral change. And the good part is that, it actually works.
The GOQii coaching path- body, mind and soul.

The only goal of your GOQii Coach is your total success.

You can get constant support, motivation, focus, accountability, efficiency and expertise through unlimited text chats and scheduled video calls.

Your coach will help put you on your best path to success.

So whether your goal is to feel better, have more energy, improve your diet, lose weight, sleep better, or break a bad habit, be assured that your personal health champion is their to guide you on your path.
4. Experts
Experts consists of those passionate minds who are responsible for designing the GOQii life. These health, fitness and habit experts help the coaches to provide you sustained engagement and goal reinforcement from time to time.
5. Karma
The philosophy at GOQii has always been to achieve the harmony between mind, body and soul. This gave birth to the concept of Karma, a point based system that enables players to earn points based on the steps they walk daily. There is a science to this point based system too. In 1930, Mahatma Gandhi walked 390 KMs for social welfare during the famous Dandi March. With GOQii, you earn 1 Karma point for every 390 steps you walk.
GOQii has associations with multiple Donor partners who convert these Karma points into actual money. You can choose from a variety of causes to donate your points to. So rock your karma and sweat for good.
GOQii Life Programmes
The GOQii life consists of 3 life programmes which aims at improving your lifestyle and making it fit and healthy.
12 Months: This plan costs Rs. 11,999 which comes to around Rs. 1000/month and as low as Rs. 33/day.

6 Months: This plan costs Rs. 6,999 which comes to around Rs. 1167/month and as low as Rs. 39/day.

3 Months: This plan costs Rs. 3,999 which comes to around Rs. 1333/month and as low as Rs. 44/day.
Buy the plan that suits your need and stay fit, healthy and motivated with GOQii.