"All work and no play makes jack a dull boy." This famous phrase holds so apt and true in today's hectic lifestyle. The need to be successful and ahead of others has become such a priority that we hardly find the time to relax, chill and indulge in outdoor activities, like we used to do during our childhood. Today from the App Review section, we bring you an amazing app which aims at getting our love for sports and outdoor activities back like old times.
Playo - Local Sports Community

Playo is your favorite one stop destination for all things sports – be it to find playpals based on your timing preferences or be it to discover and reserve sports facilities in your neighborhood. It's the easiest way to connect with playpals in your neighborhood and discover sporting venues nearby.
It's the perfect community for sports lovers. The team at Playo believe 'Sports' to be the universal language as it gave birth to team spirit, which is a simple yet powerful notion that forges deep bonds between individuals.
How Playo Came Into Existence
"For too long now, fitness has been seen as a regime and therefore the solutions out there are targeted at the individual. Our attempt is to view fitness as a social problem and hence we target the group. We want physical activity for our users to be fun and fitness just a mere by-product," as said by Amit Kumar Roushan, App Development, Playo.
The whole idea was to get people who have stopped playing, back into the game. They aim at solving two major problems, as faced by sports enthusiasts. Firstly, people have no partners to play with, and that becomes a major reason why people stay away from such activities. Secondly, everyone doesn't have the luxury of staying at posh apartments and societies which provide them facilities of a ground or a park for their outdoor activities.
Features
Be The Captain Of Your Game: Playo lets you host a game and find playpals with matching skill sets. Apart from this, one can also sync-up with the team using Playo's in-app chat. It's that easy.

No More Worrying About Where To Play: You get the facilities of playing at the best grounds in your very own neighbourhood. You can reserve your favorite court on the app itself.

Easy to use Mobile App: The UI/UX of Playo's app is awesome and user friendly. The app is available for Android, iOS and Windows platform. You can view amenities, pricings, reviews and ratings through the app.

Your sports social corner: Playo is your definitive sports networking app as it allows you to track games, find people with whom you have played a game in your playpals, and it lets you invite friends to Playo community.

A whole array of sports to choose from: Playo lets you pick your favorite sports from a list of 9 kinds of sports activities at present. They inclue Cricket, Basketball, Football, Tennis, Table Tennis, Badminton, Pool, Swimming and Volleyball. The team plans to add other activities like cycling, running, yoga, paintball etc. in the near future. So many games to play and set your skill levels. Isn't it cool?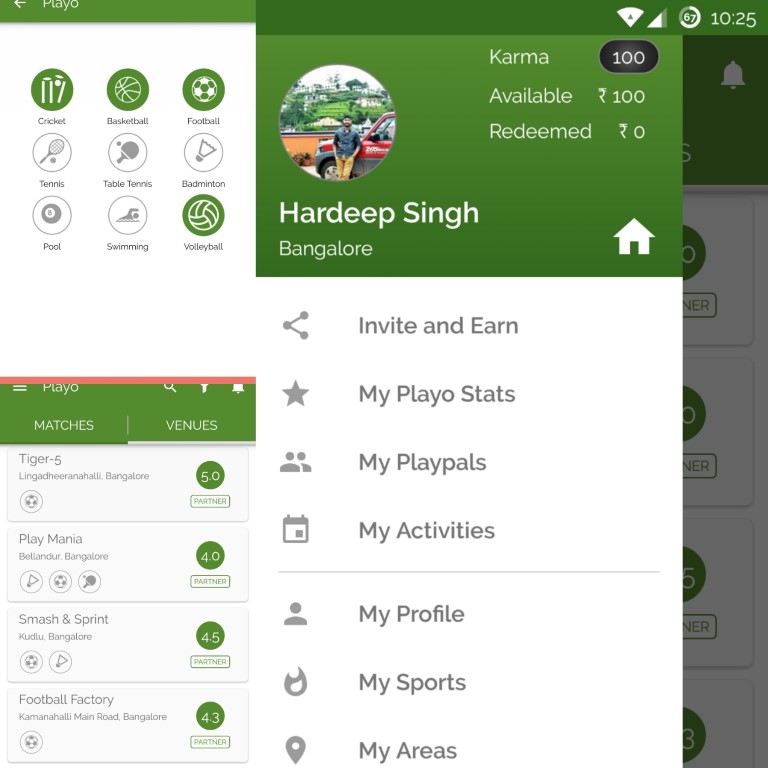 Keep Playing, Stay Motivated!
Playo lets you keep track of your improvement through community ratings, redeem your Karma points against bookings and exciting offers as well as it keeps you updated with real-time alerts and notifications.
Special Offer
Playo is a by-invite platform only. One needs an invite to proceed to the app store to download the app. But you need not worry as Appknox in collaboration with Playo brings you a special offer. Download the app from the link and get Rs 100/- off exclusively for Appknox readers.
So download this amazing app today and bring back 'Play' in your life. Get your lovable varsity jersey out and give your neighbour a shout or go challenge your colleague or make a new friend.
No more excuses...go Playo!