We are absolutely thrilled to announce that Appknox has been rated as 'High Performer' and 'Easiest to do Business with' for Fall 2020 in Static Application Security Testing (SAST) by G2. The awards are based on reviews from actual Appknox users who have offered their feedback to G2, the world's leading peer-to-peer business solutions review website.
The G2 Crowd Grid Report and Relationship Index for SAST of fall 2020 has awarded Appknox with two important recognitions that many companies strive hard for but few manage to win. The awards indicate the company's commitment and drive to offer top-end security-related products that match and often exceed customer expectations. The awards also affirm Appknox's clear understanding of the needs of businesses and the determination to offer capable solutions.
Appknox Highly Rated Features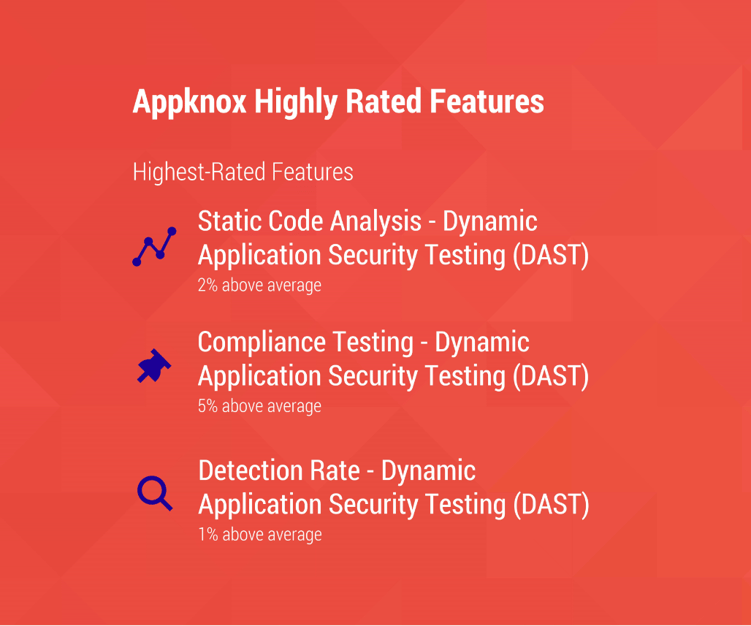 G2, considered to be the world's leading peer-to-peer business solutions review website, has awarded Appknox with two awards. The platform leverages actual end customer feedback to rank the best business software and services. The G2 Crowd Grid Report and Relationship Index for SAST of fall 2020 has recognized the commitments of Appknox towards its products and businesses that work with the company.
Appknox provides the best in class mobile application security platform that helps businesses detect and fix security vulnerabilities using both the Automated Security Testing suite and human based approach. The multi-vector detection and protection services ensure mobile apps remain impenetrable to security threats and data breaches. Some of Appknox's highest-rated features are:
Static Code Analysis - Dynamic Application Security Testing (DAST)
Appknox utilizes the DAST test which is an application security solution that attempts to find certain vulnerabilities in web applications while they are running in production. Also known as the Black Box Test, Appknox attempts to penetrate the security layers without a view into the internal source code or application architecture. Needless to add, skilled and motivated attackers use this technique to find potential weaknesses for exploitation.
Static Code Analysis is just a part of the entire process which analyzes software and websites without actually executing programs. This involves testing an application from the inside out by examining its source code or application binaries for issues based on the configuration that points towards a security vulnerability.
Compliance Testing - Dynamic Application Security Testing (DAST)
As the name suggests, Appknox also conducts compliance testing. The tests ensure the platform meets various requirements from regulatory bodies. Such tests help ensure information is stored securely and remains protected from hackers at all times.
Appknox is well-versed with multiple regulations. We can find out and advise on non-compliance or offer confirmation of the same.
Detection Rate - Dynamic Application Security Testing (DAST)
Appknox also conducts thorough scanning for vulnerabilities using the DAST methodology. Appknox's DAST conducts a black-box analysis of the application and examines the targeted system's responses to a battery of tests designed to highlight vulnerabilities.
Our ratings in G2 Fall 2020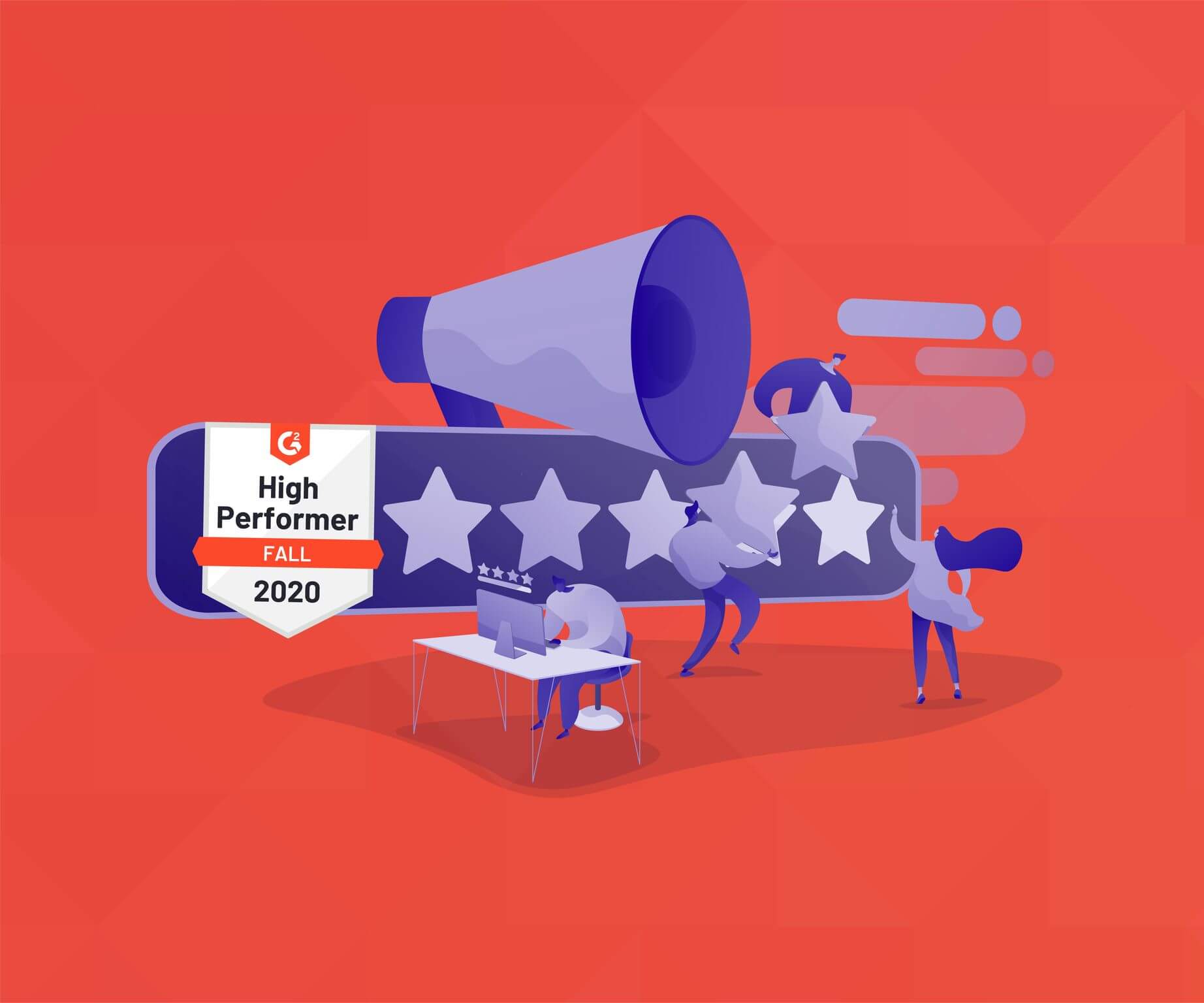 The G2 Crowd Grid Report and Relationship Index for SAST of fall 2020 offers multiple ratings to service providers. These rating matter as they have been derived from actual end-users' feedback. Accordingly, Appknox was in a leading position for three crucial business practices:
'Easiest to do business with'
Appknox has been rated as 'Easiest to do business with' in G2 for Fall 2020. The award was in the category of Static Application Security Testing (SAST).
Appknox platform was designed with developers in mind. We provide best in class customer support and top-class assistance from our security researchers. Several customers have offered glowing feedback about Appknox.
High performer
Appknox has been at the forefront of innovation and penetration testing. The award affirms our commitment towards determined functionality, high ease of use, quality support, among several other factors.
Relationship Index for Static Application security testing (SAST) for Fall in 2020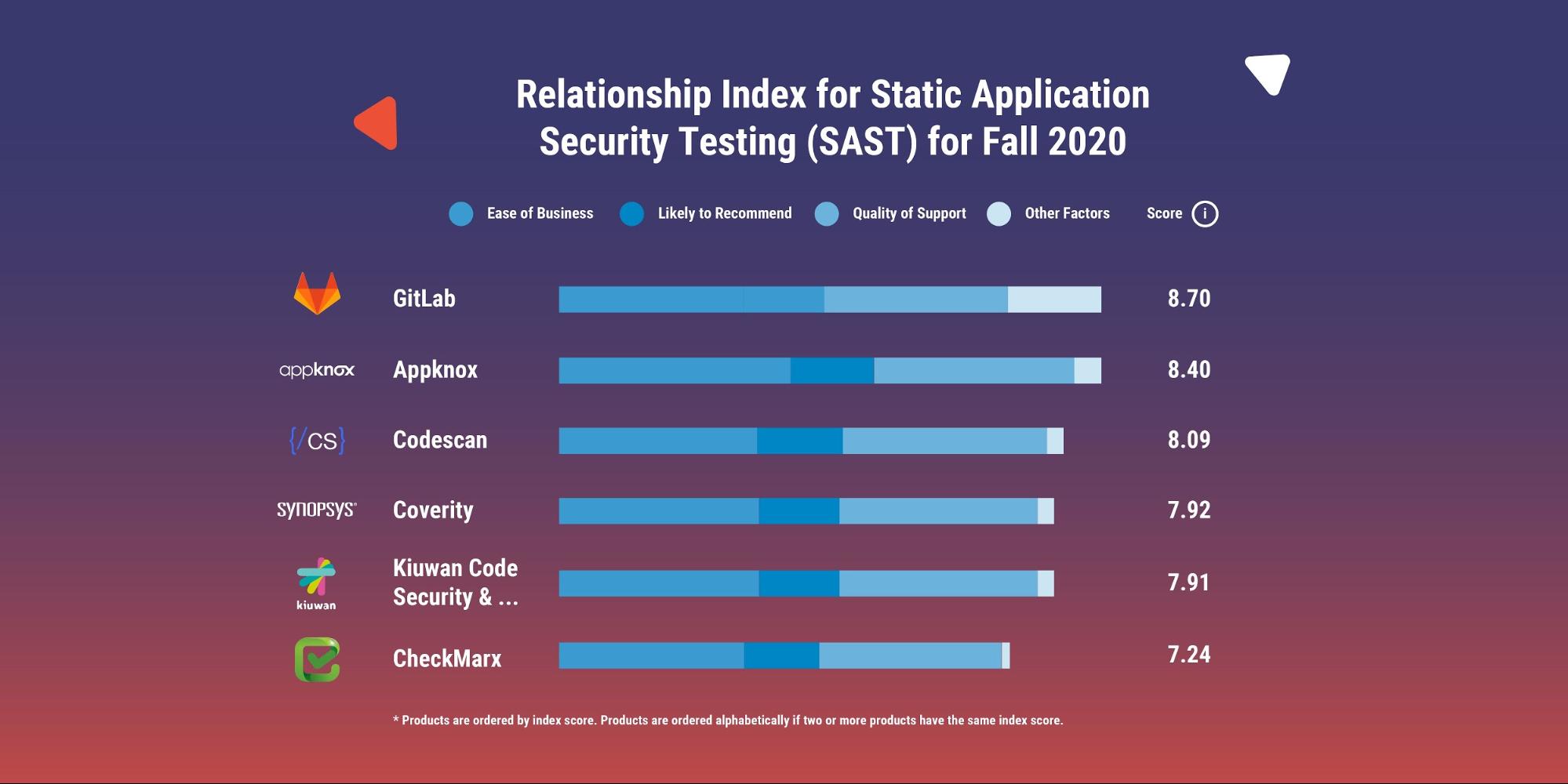 Over the past year, Appknox has earned an average of 9/10 NPS Satisfaction score from our customers for providing the best in class Mobile Application Security experience across Enterprises, Banks, FMCG, Startups, E-commerce, and Financial institutions. Hence the high score on the Relationship Index is welcome, but certainly not a surprise.
Appknox is purely customer-oriented:
We have been rated above Industry standards by our customers on the Quality of support, Ease of Use, and Ease of Set Up. This is a clear attestation of customer orientation since our foundation in 2014.
Throughout our journey, we have always been extremely customer-driven, and have been constantly coming up with path-breaking and innovative ideas on how to make seamless onboarding and keep on improving our services.
What our customers have to say about Appknox:
We've always been obsessed with listening to customer feedback and translating your requests into product innovation. Here are some actual customer reviews about Appknox:
"A perfect security partner" - Prasanna V Vice President

"Great solution for security assessment of mobile applications" - Abhishek K

"The Appknox tool is best we have used, Very precise & on point scanner" Himanshu S, Full Stack Developer

"Excellent Automated tool with the mapping of OWASP & PCI-DSS, perfect for FinTech companies." - Ekta S, Software Developer
G2 crowd scoring methodology:
G2 has more than 3 million people who visit the website to read and write authentic reviews about thousands of software products and professional services. There are way over a million reviews left by end customers and consumers, which makes G2 a trusted source that helps every business professional make better technology decisions.
Products or Service Providers are ranked by customer Satisfaction and Market Presence which are affected by several key metrics. The G2 crowd scoring methodology involves taking actual customer feedback and allocating points based on the same. The comparison between some of the leading players in the Static Application Security Testing (SAST) and Dynamic Application Security Testing (DAST) indicate Appknox has scored well in nearly every category.
Appknox has also been tagged as 'Optimized for quick response' which is a clear attestation to our commitment to customer response.
Way Forward:
Appknox has been operational since 2014. Needless to add, this is just the beginning, and we have already managed to place ourselves firmly in the hearts and minds of customers. There's undoubtedly a lot of journeys to cover and a lot of work ahead. But this is a moment of celebration and gratitude for all of us at Appknox.
Our vision of building the world's most trusted on-demand mobile application security platform is taking shape. We sincerely thank you for your continued support and confidence in us.