For those in the cybersecurity domain, the first quarter of 2018 didn't disappoint at all. Be it in terms of the top cybersecurity threats or the biggest cybersecurity investments in the market. We witnessed it all in the first three months of the year.
Before we proceed ahead, here's a brief outlook on how the year 2017 fared in cybersecurity investments.
2017 was equally good as more than 200 cybersecurity startups raised venture capital - twice as much as the year before. Venture firms invested $7.6 billion into such companies last year via 548 deals. This was up from $3.8 billion and 467 deals in 2016.
Worldwide Enterprise Security Spending will Increase
Gartner, Inc. forecasts that worldwide enterprise security spending will reach $96.3 billion in 2018, an increase of 8% from 2017. New regulations, shifting buyer mindset, awareness of emerging threats and the evolution to a digital business strategy are the reasons for organisations spending more on security.
"Overall, a large portion of security spending is driven by an organization's reaction toward security breaches as more high profile cyberattacks and data breaches affect organizations worldwide," said Ruggero Contu, research director at Gartner. "Cyberattacks such as WannaCry and NotPetya, and most recently the Equifax breach, have a direct effect on security spend, because these types of attacks last up to three years."
Gartner analysts added that several other factors are also fueling higher security spending. The coming of GDPR in Europe in 2018 and the cybersecurity law in China in 2016. These regulations translate into increased spending, particularly in data security tools, privileged access management and SIEM.
The image below provides a brief snapshot of the Worldwide Security Spending by Segment, 2016-2018 (Millions of Current Dollars).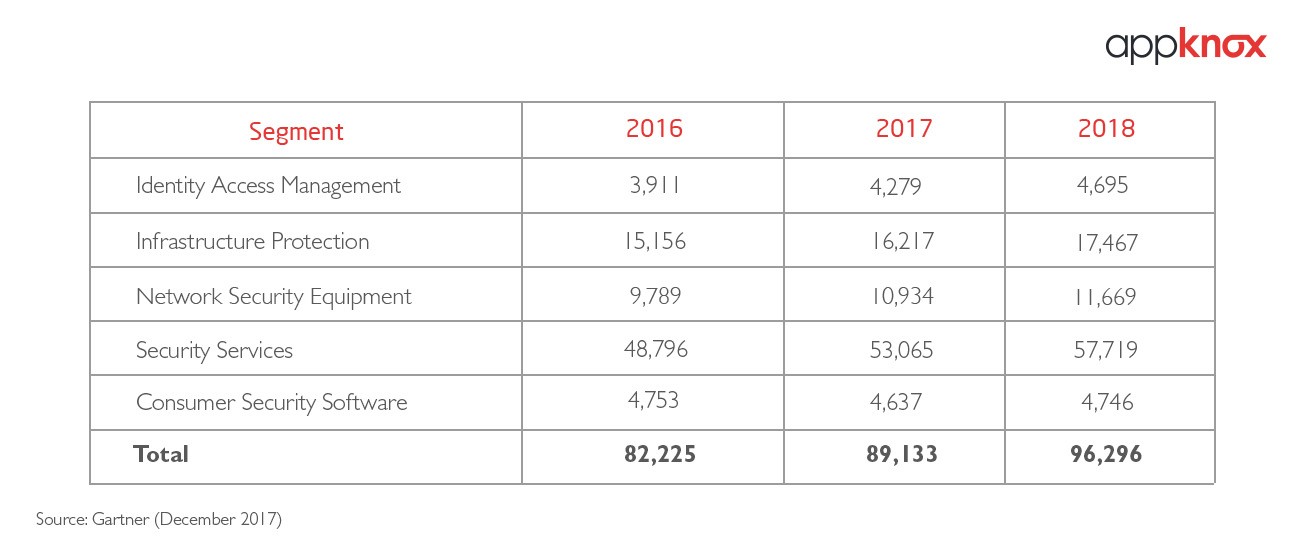 Skills shortages, technical complexity and the threat landscape will continue to drive the move to automation and outsourcing.
"Skill sets are scarce and therefore remain at a premium, leading organizations to seek external help from security consultants, managed security service providers and outsourcers," said Mr. Contu. "In 2018, spending on security outsourcing services will total $18.5 billion, an 11 percent increase from 2017. The IT outsourcing segment is the second-largest security spending segment after consulting."
Cybersecurity investments in Q1 2018 increased by more than 25%
From seed funding for startups to large investments in emerging players, the first quarter of this year was hot – Morag McGreevey.
The first quarter of 2018 saw notable increments in cybersecurity investments as compared to the same quarter last year. Cybersecurity startups raised a total of $725.8m in funding. Here's a brief outlook:
- Investments in companies offering cybersecurity solutions for the financial services industry were up 27% in Q1 2018 compared to the same quarter last year.
- When interval analysis is applied investments valued under $100m actually increased by 30.3% in Q1 2018 compared to the previous quarter.
- Deal activity increased for the first time in four quarters with a total of 44 deals closed.
- The $725.8m invested in Q1 2018 equates to just 17.6% of last year's total funding. Thus, if investment continues at this pace, it is not projected to surpass 2017's total. However, investment was similarly slow at the beginning of 2017 and gained momentum later in the year.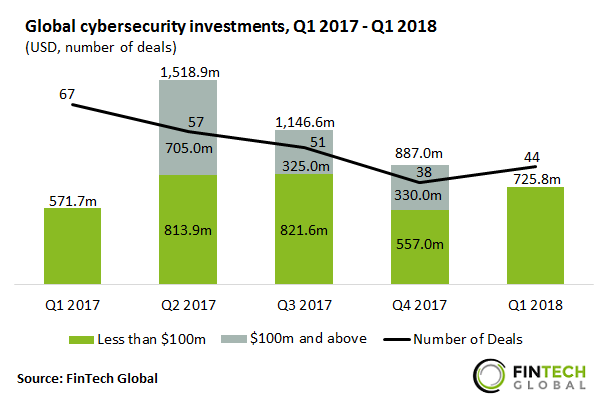 Top 5 Cybersecurity Investments of Q1 2018
1) In the month of January, Cryptocurrency and blockchain security company Ledger raised $75 million in a Series B financing round led by Draper Esprit.
2) During the same month, Anomali raised $40 million in Series D financing from Lumia Capital, Deutsche Telekom Capital Partners, Telstra, Sozo Ventures, GV, General Catalyst, IVP, and Paladin Capital Group.
3) In the month of February, DataVisor, a provider of fraud detection solutions, announced a $40 million Series C round of financing led by Sequoia China.
4) During the same month, Vectra raised $36 million in Series D financing led by Atlantic Bridge Capital, with participation from Ireland's Strategic Investment Fund and Nissho Electronics Corp. Previous investors also contributed.
5) In the month of March, Bugcrowd closed $26 million in a Series C funding round led by Triangle Peak Partners.
For a complete list of all VC deals of this year, visit Cybersecurity Ventures VC Report.
Top Active Investors in the Cybersecurity ecosystem
The top backers of cybersecurity companies and startups are all headquarted in the US. The investors list comprises of 7 venture capital firms, as well as the investment arms of Google, Dell and Intel.
The most active investor with 30 investments was New Enterprise Associates (NEA), a Menlo Park-based VC firm. The largest deal that NEA participated in was a $110m investment in Cloudflare, a web performance and security company, in Q3 2015.
Accel Partners followed next with 25 investments. Their portfolio includes some of the most well-funded cybersecurity companies including Tenable, Illumio and CrowdStrike.
Investors are increasingly backing companies based outside of the US
- North America's share of investment deals dropped by 12.9 percentage points (pp) from 80.6% to 67.7% between 2014 and 2017. This share further decreased to 63.7& in Q1 2018.
- Between 2014 and 2017, Europe's share of deals increased from 12.6% to 15.9%. This trend further continued in Q1 2018 to reach 18.2%.
- The region of Middle East & Israel saw a jump of deals from 4.4% in 2014 to 11.7% in 2017. This value reached 13.6% in Q1 2018, more than triple the original value.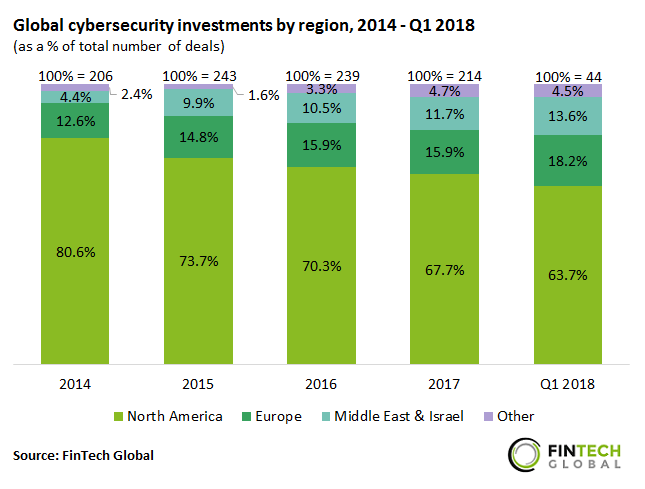 Final Thoughts
Gartner forecasts that by 2020, more than 60 percent of organizations will invest in multiple data security tools such as data loss prevention, encryption and data-centric audit and protections tools, up from approximately 35 percent today. This further adds to the confidence in the cybersecurity market.
We have said this, time and again, that this is the best phase to start a career in cybersecurity. The first quarter results prove us right. Looking ahead we are hopeful that the enthusiasm will continue for the second quarter as well.