ISO27001 is a prominent International Standard and best practice for Information Security Management. The core element of this standard is identifying risks and mitigating vulnerabilities that threaten the security of information assets. So, the technical risk and vulnerability assessment form the basis of implementing the ISO27001 Standard.
For these reasons, Penetration Testing plays a crucial role in the achievement of the ISO27001 Standard. Penetration Testing is a technical assessment that involves simulation of real attacks and exploits vulnerabilities in systems, networks, and infrastructure. This way the assessment plays a significant role in achieving, maintaining, and improving the Information Security Management in the organization.
Elaborating this, we will explain the significance of the penetration testing in the ISO27001 and the role of the assessment in Information Security Management. But before getting into the details of the Penetration Test let us first learn a bit about the ISO27001 Standard.
What is ISO27001 Standard?
ISO27001 is an Information Security Management standard that provides a detailed framework on how organizations can secure their information assets. It is currently an industry best practice for organizations handling sensitive information and looking to protect their sensitive data. Complying with this International Standard ensures the management of data security and risk exposure.
So, this way ISO27001 Standard goes a long way in helping organizations strengthen their information security controls and building a strong defence against various threats. For this, conducting technical risk and vulnerability assessments is essential. So, here is when penetration tests come into the picture and play a key role in the ISO27001 certification process.
That said, let us dig a little deeper into understanding the need for penetration tests in ISO27001 Standard.
What is the Purpose of Penetration Testing in ISO27001?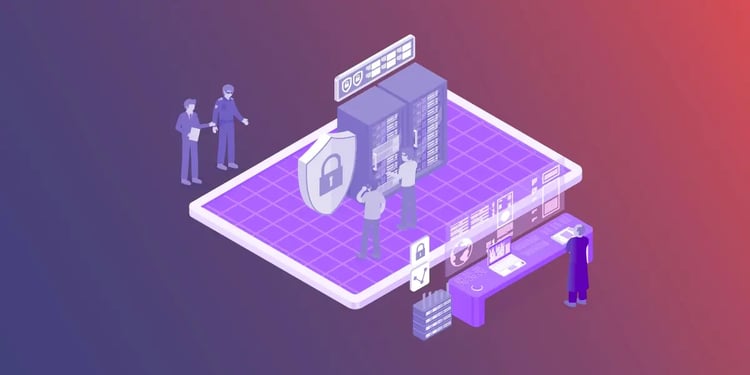 ISO27001 Standard provides detailed guidelines with a specific course of action for organizations looking to protect their sensitive data and other assets. So, as a part of the standard requirement and the risk assessment process, Penetration Testing is essential for organizations to validate the effectiveness of their information security controls.
Moreover, as per the ISO27001 annex A.12.6 "Management of Technical Vulnerabilities" organizations are required to conduct Penetration tests to evaluate security controls and prevent exploitation of vulnerabilities. Organizations need to periodically assess and develop appropriate measures to address the identified vulnerabilities.
This is a crucial step towards the management of technical vulnerabilities in systems and networks. Performing Penetration Testing brings a balance between building strong security controls and patching vulnerabilities in the system.
For organizations having complex systems, networks, and applications comprising sensitive information, Penetration testing helps fulfil the requirements of vulnerability assessment and remediation. Regular scanning tools are ineffective when it comes to identifying functionality-specific vulnerabilities such as unpatched.
This is why and when Penetration Testing is required for bridging the gaps.
The assessment leaves no scope of error when it comes to identifying and remediating vulnerabilities. While other assessments like the vulnerability test specifically meet ISO27001 annex A.12.6, the penetration test goes beyond it to address the issue and mitigate the potential risk.
The penetration testing satisfies the requirements of the ISO27001 Standard while it also improves the existing information security standards. Besides, the Pen test unlike other assessments keeps you ahead of the curve when it comes to building defences against the latest techniques of attack.
It gives you a real perspective of the latest cyber risks and exposures. This helps organizations have a secure system while also ensuring compliance with the standard. Taking this ahead, let us see how penetration testing helps align the security controls with ISO27001 standards.
Good Read: Appknox is Now Information Security Management System (ISO/IEC 27001:2013) Certified
Types of Penetration Testing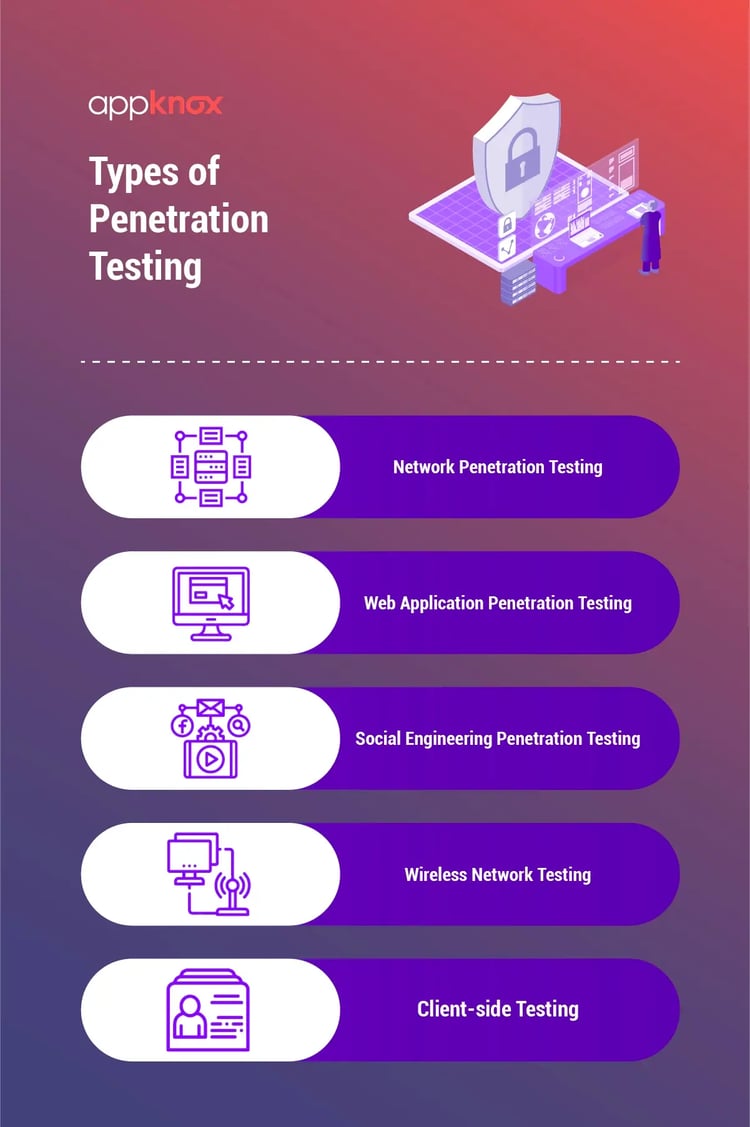 Penetration Testing is a simulation of a real attack exploiting identified vulnerabilities in systems, networks, and applications. Penetration tests can be classified into 5 main types each addressing a specific type of security issue. Understanding each type of Penetration test is crucial especially for organizations performing it to align their security controls to specific standards or regulations.
Take a look at some of the types of Penetration Testings conducted by organizations to identify security vulnerabilities.
1. Network Penetration Testing
Network Penetration test helps in detecting vulnerabilities in the internal and external network infrastructure. The assessment helps identify security flaws in access points including firewall configurations, DNS attacks, IPS deception, etc.
The test conducted evaluates the defence mechanism implemented and reports the effectiveness against various threats. Performing a penetration test on the network does not just highlight the vulnerabilities but also the severity of the risk exposure to the infrastructure and information assets.
Good Read: Difference between Agent-based and Network-based Internal Vulnerability Scanning
2. Web Application Penetration Testing
Web Application Penetration testing helps identify security issues in the web application including insecure design, coding, and development of applications. The test is conducted on web applications, browsers, plugins for identifying security lapses and exploitable vulnerabilities. This helps in closing the identified security issues and potential threats to sensitive assets and data.
3. Social Engineering Penetration Testing
Social engineering penetration testing is all about assessing the employee's readiness against potential cyber threats. The test evaluates the human network which is an integral part of an organization's business infrastructure.
Employees are tested against various social engineering tactics such as phishing attacks, imposters, tailgating, pre-texting, etc. This type of Penetration test evaluates the employee's level of awareness concerning various cyber threats and highlights the potential threat to the organization.
4. Wireless Network Testing
A wireless network penetration testing involves testing wireless devices including mobiles, laptops, and drives, etc. that are used in the organization for storing or processing sensitive data.
This test also includes examining the administrative access to identify security loops holes in the access management. Such type of penetration testings identifies vulnerabilities and weak access points that may result in data breach incidents.
5. Client-side Testing
A client-side penetration testing is a form of test that identifies vulnerabilities in the applications. Malicious web pages, malware, or malicious codes are often used for attacking systems and gaining access to sensitive information.
This is often done via emails, web browsers, and other such modes. Penetration test helps detect such vulnerabilities and fix the security issues that threaten the integrity and confidentiality of sensitive data and assets.
Depending on the data flow in the organization and the objective of the penetration test, organizations must select an appropriate form of test for detecting vulnerabilities. For this, data mapping is a crucial step. Identify networks, systems, and applications that comprise sensitive data and perform a penetration test to suit the security requirements and compliance objectives.
That said, let us see how security controls can be aligned with ISO27001 requirements performing penetration tests.
How to Align Security Controls with ISO27001 Using Pen Testing?
ISO27001 is an information security standard for protecting sensitive information handled by an organization. Since the requirements of the standard revolve around identifying vulnerabilities and mitigating risks, penetration testing is seen as an assessment that significantly contributes to compliance with the standard.
Penetration Testing is a security assessment performed for identifying and exploiting vulnerabilities to help organizations address security issues. So, this way the penetration test forms one of the core elements of ISO27001 standard concerning risk assessment and risk treatment.
The test can be customized to meet the requirements of ISO27001 Standard and control objectives as stated in the standard framework.
Penetration testing addresses specific areas of ISO27001 Standards concerning the Vulnerability Management A12.6 (Technical Vulnerability Management) and Information Security Review A.18.2.1 (Independent Information Security Review) which is crucial for the compliance process.
The test helps in risk assessment, discovering vulnerabilities, and identifying related threats to applications, systems, and networks. This way the assessment contributes to the risk treatment plan and remediation by identifying vulnerabilities and facilitating the implementation of appropriate security controls. The test offers an in-depth analysis of all the security controls and reports details on all vulnerabilities and the level of risk exposure to your organization.
Accordingly, security controls can be implemented in alignment with the requirements of ISO27001 requirements. Further, regular penetration test contributes towards continual improvement, ensuring controls implemented are effective against various emerging threats and vulnerabilities.
Conclusion
Organizations looking to protect their sensitive information by achieving ISO27001 certificate must conduct penetration testings to proactively fix security issues, and risk exposure to information assets of the organization. The assessment helps find and remediate vulnerabilities effectively, ensuring integrity, confidentiality, and security of information assets. This ensures seamless information security and risk management.
So, if you are currently looking to implement ISO 27001 or prepare for an upcoming certification audit and ensure the effectiveness of security controls and procedures, then performing Pen test is absolutely essential.