Mobile banking has existed for close to 15 years. However with the recent boom in the smartphone market, mobile banking has turned from convenience to a vital tool. Bankers have been talking about using cell phones as a channel for consumer banking almost as long as energy companies have been trying to make solar power affordable, but it has taken a confluence of factors to make mobile banking a reality.
"By 2020, an estimated 50 billion devices will be connected` to the internet."- Cisco
With the opportunities that come with the internet, are also great cyber security threats. Banking has always been central to our daily lives. Banks have also always had the reputation of being an early adopter of technology, often innovators themselves.
In a world where mobile phones are the center of technological innovation directly impacting the lives of many, it was essential to study how security for banking would cope with this magnitude of technological innovation and change.
Appknox recently conducted a research which revealed that more than 85% of mobile apps fail basic security testing. We chose APAC to be our region of study, picking from 106 banking apps that work and operate in this region and analyzed their Android applications across 14 threat scenarios. There was no bias in selecting the apps. These included almost all the banks that offer their services via a mobile app in this region.
Key Findings From Our Report
106 mobile banking apps scanned
85% of the mobile banking apps failed basic security checks
50% of apps were found to have at least 4-6 loopholes in them
74% of the apps diagnosed with the top 5 threats
67% of the threats detected were of HIGH SEVERITY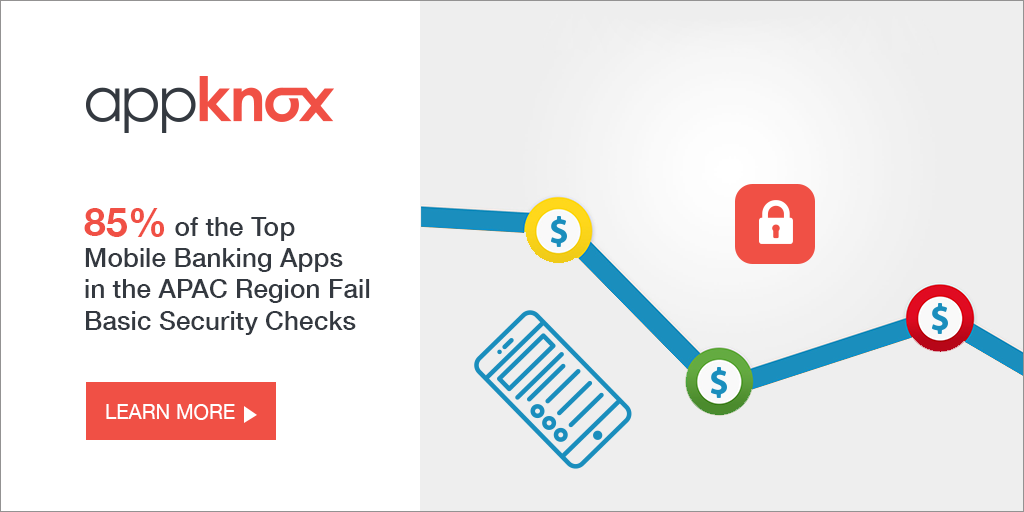 According to a study conducted by PWC, 45% of Financial Services organizations have suffered economic crime, compared to only 34% across all other industries. Appknox's study on these mobile apps only reinstated why banks are still a hot favorite for a hacker's time worth spent.
Over the years despite security measures being ramped up, hackers have still found their way around. It is evident through this study that threats are still prevalent in several mobile banking apps. Mobile apps have weaved their way into being a key component in digital banking strategy. It is vital that banks pay equal importance to both innovation as well as security to ensure maximum customer satisfaction.