When mobile phones first entered the market, their full scope was unknown. This ambiguity meant that the question of mobile security remained unasked. As browsing gained popularity as one of the most popular ways to acquire information and the ability to do so entered the phone, i.e. internet entered mobile phones, secure browsing came under question.
Information is one of the most powerful tools today. Using it responsibly by ensuring everything we know is only known to us is something for which we trust web and mobile phone developers. Encryption and privacy are what we believe they give us.
However, as we enter 2020, vision tells us how flawed this argument is. In the last decade, enterprise mobile security has come under threat multiple times.
Remote hacking is both at its most accessible and hardest. Breaking down firewalls and other security barriers and gaining access to files demand high skills and, all over the world, people meet this standard.
Before understanding the risks mobile security will encounter, understanding the very scope of mobile security is essential. This happens by comprehending the security landscape and the threat the entire landscape faces when enterprise mobile security is attacked.
The Mobile Security Landscape
The current security landscape proves the woeful inadequacy of mobile information security. The number of cases detailing a breach in security with individuals or organizations obtaining the information they should not have was at its highest in 2019.
2018 recorded nearly 4 billion users. With such population growth on the internet and a continually evolving code for a more neat, better solution to any security problems, comes a host of security problems.
In 2019, the world witnessed ransomware becoming the most popular kind of cybercrime. Businesses all over the world fell victim to ransomware every 14 seconds in 2019!
DevOps and Cloud software also dominated the cybersphere as 2019 came to a close. Using cloud storage, especially, became immensely popular, while also being unsafe. Digitizing all the company files and placing them on a cloud opens companies up to breaches.
This is the reason why large businesses use tools like Appknox that provide CI/CD integration for their SDLC (Software development life cycle) with Github, Gitlab, Azure, Slack and, Atlassian. These integrations protect the enterprise mobile infrastructure against attacks and ensure the DevOps are from reliable third-party sources.
Understanding the security landscape of 2019, therefore, establishes expectations for 2020. Predicting mobile security trends becomes a go to framework, as we progress into a strictly digital age, much more necessary.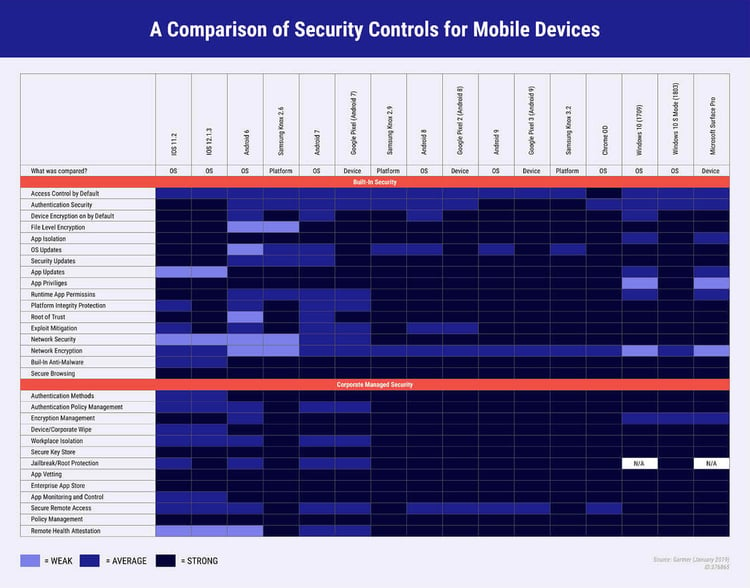 Mobile Security Recommendations by Appknox
When it comes to protecting enterprise mobile security and mobile data on risk, businesses adopt several practices such as:
Resilient Authentication Measures
Multi-factor authentication (MFA) is the future of digital security. The two-factor authentication (TFA) method remains popular but is slowly proving less resilient in keeping unwanted users out. MFA and biometrics ensure that only authorized users access mobile devices.
Routine Updates and Backups
Most applications release updates that enhance performance in terms of security. As the malware and cybercrime worlds evolve, so does the regular world. Moreover, updates account for changing times.
Similarly, routine backups ensure that a hard disk should be wiped due to a virus or any other reason, the data remains available.
Blocking Suspicious Apps and Avoiding Public Wi-Fi
Public Wi-Fi and malicious or suspicious apps are the most common ways of cybercrime occurring. An open, unsecured WiFi channel and an app from a non-trustworthy source open mobile devices up to multiple risks. These range from viruses to data hacks!
Monitoring and Wiping of Devices
Today, companies dedicate entire teams to mobile device security. These teams closely monitor all mobile device security systems while catching any breaches and fixing them. However, if they are unable to do so for some reason, it becomes their job to wipe the device remotely.
This is why backing up data is so important. Without a backup of the essential data, everything is wiped clean. Ensuring backup, therefore, prevents unauthorized users from accessing devices while giving authorized users continued access to the data required.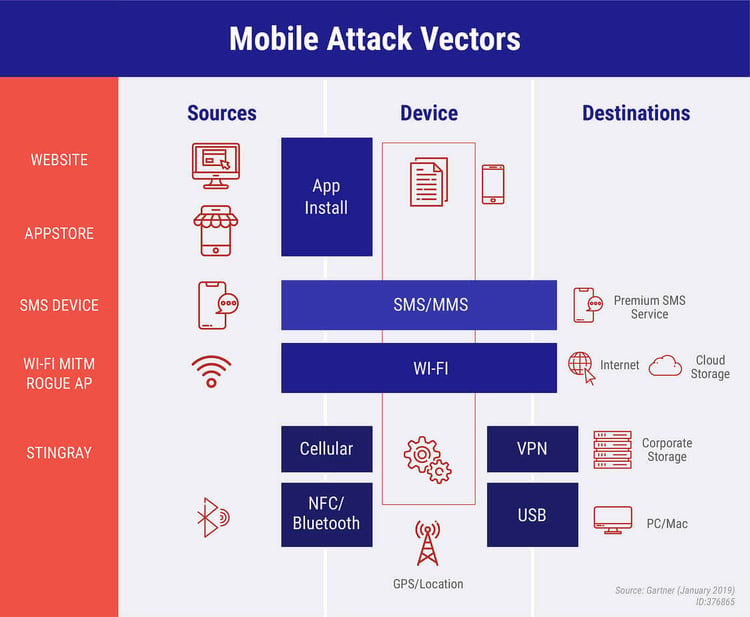 These practices are also echoed by Gartner, in their 5 security techniques. Let's take a look:
Gartner's Top 5 Mobile Security Techniques
Going into 2020, these are 5 tried-and-tested methods that Gartner has certified as effective. And, as a global leader on cybersecurity with summits discussing security and its trends, Gartner's 5 points are reliable for any enterprise mobile devices.
Lock-down App Permissions: CISOs should minimize the permissions they give certain applications. Permitting apps to access hardware like the camera and microphone increases the risk of security.
Do Not Rely Only on Client-side Checks: Use server-side controls for app authentication. For incredibly sensitive information, include behavioral and context checks.
Look for Third-Party Expertise and Always Test: CISOs should decide the best ways of handling mobile app security. This means always testing external applications such as cloud services before deploying them in their organization.
Harden Applications: Use a third-party tool and obfuscate software code, this way protecting it against reverse engineering and malicious code.
Perform Regular Health Checks: Constantly identify weak spots with platform health checks, while keeping user privacy in mind.
All these are preventive measures, which means now we need to examine what they are preventing.
What are the security issues in the mobile ecosystem?
Data Breaches in 2019 Due to Improper Mobile Security Practices
2019 was a banner year for security hacks. By the end of September alone, there had been 5183 breaches, compromising 7.9 billion data records.
Here are the top 10 data breaches and compromised records of 2019:
Social Media Profiles (October) – 4 billion
Orvibo Leaked Database (July) – 2 billion
TrueDialog (December) – >1 billion
First American Financial Corp. (July) – 885 million
Verifications.io (April) – 808 million
"Collection #1" Data Breach (January) – 773 million
Dream Market (February) – 620 million
Third-party Facebook App (April) – 540 million
Indian Citizens MongoDB Database (May) – 275 million
Chinese Job Seekers MongoDB (January) – 202 million




There is an evident necessity for solutions. So, what are they?
Fighting the Mobile Security Issues in the 2020 Ecosystem
Both Gartner and the other factors come into play due to the ease with which security breaches happen in digital spaces. The goal of 2020 is creating a mobile landscape that fights hard against possible infiltrations.
But how do these infiltrations happen? What are the weak spots in mobile applications? They are:
Client-side injection of malware

Security decisions made by untrustworthy inputs (third-party remote workers)

Broken cryptography

Insecure data storage (cloud infiltration)

Side-channel data leakage and sensitive information disclosure (internal leaking of data)

Poorly analyzed authorization and authentication software

Improperly handled login sessions which could let unauthorized personnel access data
Along with the above-stated cloud infiltration, DevOps and APIs present threats to cybersecurity due to their third-party integrations. However, all these can be avoided by using the protections mentioned above against enterprise mobile security breaches.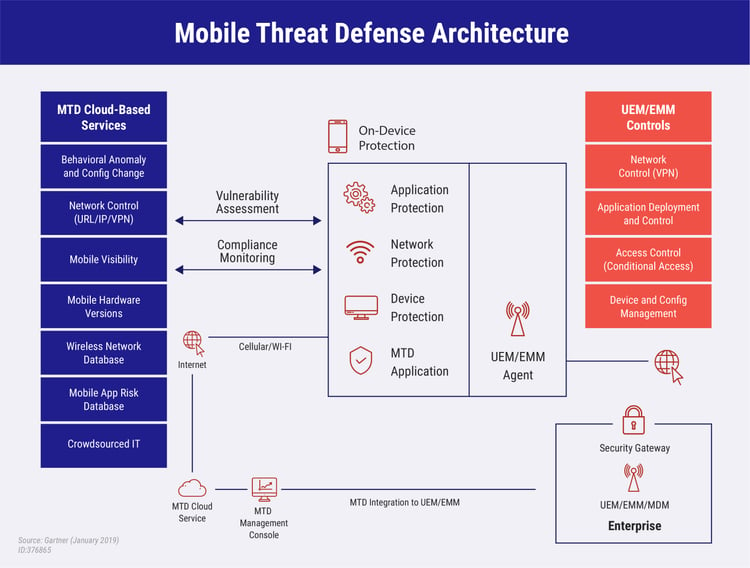 However, are these the only ways? What does the New Year look like for mobile?
Enterprise Mobile Security in 2020
As the mobile information technology industry evolves, it introduces several new trends. We listed a few trends that 2020 will possibly witness:
Adaptive Mobile Security
It is an integrated approach that believes risk management and information securities are ongoing processes. The adaptive model always keeps companies on guard and ready for any new vulnerabilities.
Protecting Sensitive Data
In spite of a large number of significant leaks expected to continue in 2020, sensitive data protection remains a trend. There will possibly be developments in masking and encryption technology with a consolidation of multiple databases into one server for efficiency. Consolidation also helps cyber teams keep track of security threats.
Phishing Protection
The days of unwittingly giving away personal information are not entirely at an end. However, times have changed and phishing tactics with them!
Some new tactics are:
Phishing outside email

Using real information and events

Scam encryption techniques
Fighting Mobile Malware
With companies using mobile devices to organize their businesses, app protection software has dramatically evolved. Malware, although still prevalent, is protected against owing to developing times.
Biometrics
Authorization through face and fingerprint recognition is on the rise. The goal is to live in a password-free world.
However, experts also suggest that this is a long-term achievement and mobile information security will continue protecting 300 billion passwords globally in 2020.
Information Security Education
Employee-training programs regarding information security are predicted to rise. Information security expert, Steve Morgan, even said that spending on these employee training programs is estimated to reach $10 billion by 2027!
Along with these, mobile information security giants like Cybersecurity Ventures predict that 100% of all large companies will have a CISO by 2021. They also predicted that women would hold 20% of cybersecurity jobs globally by 2019
Conclusion
As 2019 showed us, identifying trends that threaten as well as strengthen enterprise mobile security is essential for company survival.
Therefore, these are the expected trends in cybersecurity and mobile applications in 2020. How many will be achieved is yet to be seen. But, based on past experiences, experts have successfully identified these. However, companies like Appknox are already taking steps towards creating a safer mobile sphere.
Appknox is a leading provider of safe and secure mobile application solutions. Our focused team of experts provides a completely automated vulnerability assessment and high-quality penetration testing. This way, we ensure that your mobile application ecosystem remains secure with no hackers gaining access to any data!