Most of us must have experienced a situation where we tried searching for an app on Google Play Store and found many apps with similar names making it difficult to identify the true one. Fake apps are regular on the Google Play Store but Google keeps cleaning them away from time to time. While they've been doing that, a new avenue to insert malware has come up which seems to be a blind spot for Google.
There are many publishers selling Books that offer cracked APKs for less than a dollar. Well, sadly instead of getting a game or app for a cheap price, they end up getting malware on their phone.
At times we aren't sure whom to blame for these? Hackers, developers, playstore platform or ourselves, the users? In this case, in my opinion, it is all of these at some levels!
We as users bargain, be it for online shopping or for buying an app for our usage. This bargain has made us choose something which is cheaper and possibly not good for our phone. The cheaper and easily available version of guides and books are being chosen and downloaded by the users. Problems with these apps is their cracked APKs. These cracked APKs are contained in the links given in the few pages of the book.
The links are all connected to a particular site which hides all the supposed downloads behind a wall of ad redirects and pages that download suspicious EXE files on computer and unrelated malware APKs on phone. There are also some really gross phishing scams in there.
Here's an example that shows how easy it is to get tricked. Search for GTA Chinatown Wars and you get some many options on the main results page, with different prices. Many users will be tempted to go for the cheaper version.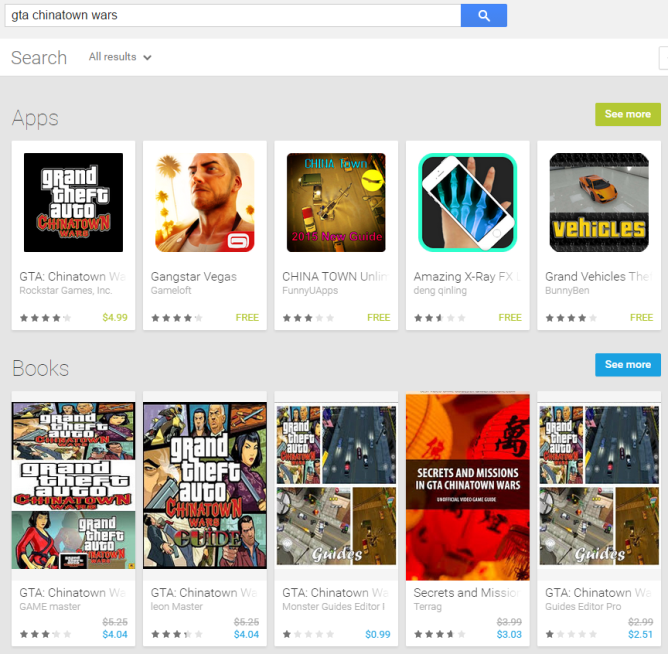 For hackers, it thus becomes easier to barge in and seek out users' personal information. It also is the responsibility of Google to have a check on these apps which pollute and defame the Play Store platform. For users, they must look out for choices which are affordable, yet not cheaper in quality. All said and done, one community which should be careful with what are they serving to the users' community is the developer community. With these apps, on one hand they earn a living and motivation to develop more apps, on the other hand, are scamming and playing with the trust of the people. This is something which is not okay!
There needs to be more awareness and options to safeguard and present the secured version of apps. It is also the responsibility of the user's to report any sort of abnormality with their phones to the Google and similar platforms from where their apps have been downloaded. There is nothing more important than being secured in the growing tech-savy age!