Mobile wallets have turned out to be the biggest and perhaps the only gainers of the demonetisation move that removed 86% of India's cash overnight after Prime Minister Narendra Modi's announcement on 8th November 2016.
In November 2016, the government of India made a high-risk, high-stakes move that would not create a huge impact on the world's largest democracy. With the objective of removing corruption, 86% of cash in circulation was voided overnight. Obviously, in a country whose economy is 90% cash dependent, this move had to lead to chaos.
Even though the chaos had just kicked in, people already started finding alternate ways and soon "Paytm Karo" became the new buzz word in town. One97 Communications, the company that owns the Paytm app became the country's best alternative for cash for many people. Shopkeepers, vegetable sellers, petrol pumps and even sex workers started accepting Paytm payments. Paytm's traffic increased by 435%, app downloads grew 200%, and there was 250% rise in overall transactions and transaction value.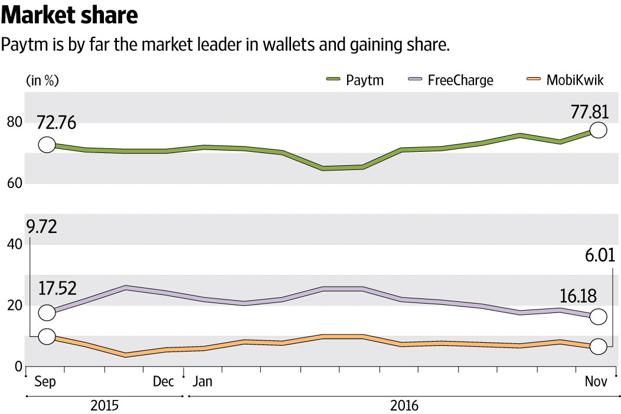 A report by Hindustan Times said that India had been adding about a million wallet users every single day! While demonetisation kicked in, the biggest reason for success for many mobile wallets was the fact that India has a poor infrastructure and network when it comes to point-of-sale machines. As per the records, there are only 1.5 million POS devices mostly with large retailers and shop owners, again mostly in Tier 1 and 2 cities.
"There might be few POS machines, but most of them have smartphones, which have become the new medium of payment," said Bipin Preet Singh, Founder, and CEO of MobiKwik. Mobikwik launched a feature, where even feature phone users could make transactions. So suddenly, you did not even need a smartphone for digital transactions.
Even Harvard Business Review wrote a story where they declared that the unqualified winners of the demonetization period were the mobile wallet players, with the market leader, Paytm, claiming 170 million users, with a traffic increase of 435%, and a 250% increase in overall transactions and transaction value. Arguably, the surge in business for mobile wallets was natural, at least for the 17% of the population that owned a smartphone in early 2016.
Although all mobile wallets have been helped greatly by demonetisation, Paytm has benefited somewhat disproportionately in terms of volumes. In just three days after the PM Modi's announcement, even my mom and dad were asking me about how to set up an account on Paytm. Of course, considering I run Appknox, they went a step ahead and also asked me how secure were these mobile wallets?
While the private players were having a blast, the government was not far behind. The government launched a payment app called BHIM that facilitates electronic transfers between bank accounts. Users could enter their unique, 12-digit Aadhaar ID number to make payments. The best part is that this app is inclusive when it comes to phones - it works on an ordinary feature phone — meaning no internet-enabled smartphone required. If the service continues to improve and grow, it could be something that a large population in India might find very useful.
The Reserve Bank of India and the National Payments Corporation of India have also been instrumental in launching channels such as the Unified Payment Interface (UPI) that saw a tremendous increase in usage owing to the low availability of cash. The RBI, however, acknowledged that ensuring the surge in digital payment sticks may not be easy.
The catalytic push from demonetisation hastened migration towards digital payments in November and December 2016. However, ease in availability of cash by progressive remonetisation impacted the pace of growth of digitalisation in February 2017. Further efforts are essential to enhance the use of digital payment going forward.
- Reserve Bank of India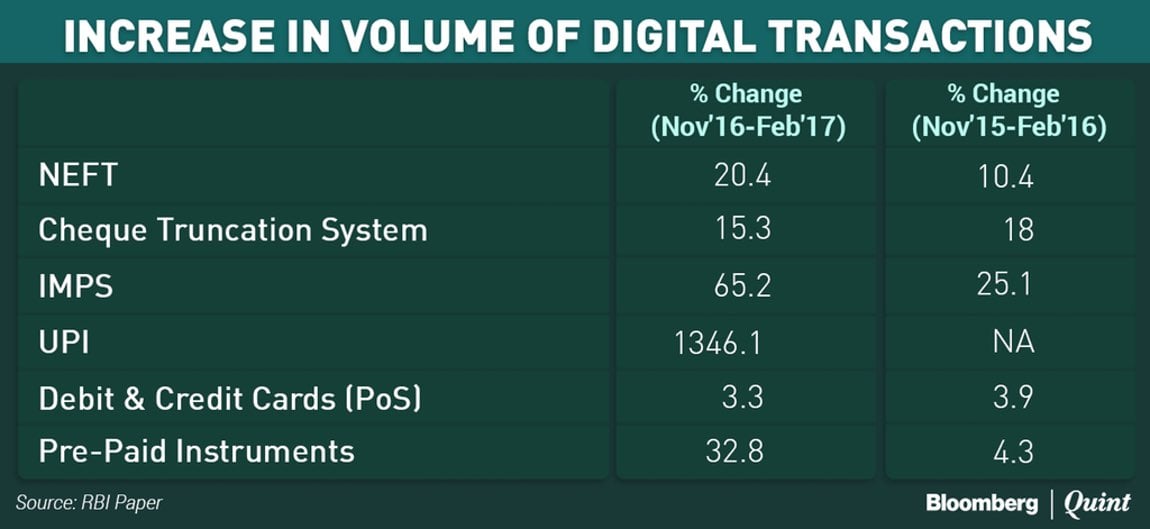 Although mobile wallets had the upper hand in the early days of demonetisation, banks have started to close in on the game thanks to the UPI apps that they have launched. Almost every nationalised bank in India has launched a UPI app helping them up their game in Digital India. As of February, the number of transactions put across through e-wallets have dropped 10% month-on-month in February, while banks have gained 20% in the same period, over a larger base.
The RBI data shows that eight e-wallets, including Paytm, Mobikwik, Freecharge, saw a loss in their market share after November 8, 2016, when demonetisation was announced. Mobile wallets, which had a market share of 34% of total PPI transactions (169.3 million) in December, saw a dip to 33% in January and then a sharp fall to 29% in February. The RBI data also showed that e-wallets saw maximum growth of 50% to 88 million transactions in December, and then fell 1% in January, before falling another 10% in February to 78 million.
Banks have a captive customer base -they offer multiple products, and payments is one among a vast number of offerings. E-wallets are transactional, where float and transaction fee are their only revenue model, so there could be some structural changes in that ecosystem going forward. The players cannot continue to offer discounts, freebies and burn VC money for long without path to profitability. At some point, they will feel the pressure from investors.Free lunches won't last forever.
- Deepak Sharma, Chief Digital Officer, Kotak Mahindra Bank.
This is just the beginning of the growth of digital transactions in India. Many more applications will be launched facilitating digital payments for sellers and buyers. As this grows, it is important to keep our eyes open to all the security threats as well. Many hackers have already abused the system and taken advantage of newly launched apps. We are proud to be working closely with the government in securing most of the UPI-based apps in the market today. It is exciting to see the government being proactive about security and it will be great to see more players support them in this new phase.
Find out what Appknox is doing to secure more than 35+ mobile wallets in India.