Handling sensitive data, compliance, and security is always front of mind for payment gateways. Technology is nowadays a double-edged sword. Just as digital advancement has revolutionized global commerce, so too have the tactics that cybercriminals use to defraud merchants and customers.
A study by PWC
, Global Economic Crime and Fraud Survey 2020, found that 47% of respondent companies experienced some form of fraud, resulting in US$42B of losses. While,
Statista
estimates that in 2021, cyber fraud alone accounted for over USD$20B, up from US$17.5B in 2020.
It's the job of payment gateways to ensure that both merchants and their customers are safe, and have all bases covered.
But what should merchants be looking out for when choosing the payment gateways with the best security standards?
In this article, we'll dive into the top 7 security measures that payment gateways use!
But first things first.
What are Payment Gateways?
A payment gateway is a cloud-based software that connects merchants with customers. When a customer wants to pay, whether it be in-store at a Point Of Sale (POS) or online through a webshop, the payment gateway will read and transfer the payment information from the customer to the merchant's bank account. Usually in a matter of seconds. In addition to providing a seamless payment experience, it is crucial for fintech developers to ensure that their payment gateway is secure and adheres to industry standards

While it may look easy to both merchants and customers, what goes on behind the scenes of payment gateways is quite complex.

1) The customer starts the purchase, fills in their card details and clicks 'Buy', or taps their card, or mobile wallet onto a card reader.
2) The payment gateway springs into action and checks that the information is correct with the issuing bank and ensures there are enough funds.
3) The payment gateway encrypts the transaction and sends it to the relevant card schemes.
4) If the card scheme approves the transaction, the payment gateway will send the information to the merchant's bank.
5) Finally, the payment gateway will send the encrypted information to the acquiring bank and move the funds. Therefore, completing the transaction.
The Importance of Payment Security
Payment gateways play a vital role in cracking down on fraud. We've all been the targets of fraudsters in one way or another. Whether it's phishing emails landing in your inbox, or your bank calling to verify your spending habits. As we spend more time online, fraudsters have more opportunities to con honest people out of their cash, which is concerning to customers and costly for merchants. European retail webshops now face an average of 206,000 attacks from fraudsters every month.
Fraud is evolving exponentially.
With e-commerce fraud forecasted to reach USD1.5 billion in 2022 in Europe alone, merchants must invest in fraud management to ensure customer safety.
Luckily, financial fraud detection is constantly developing technology to monitor and detect fraudulent transactions in real-time and identify changes in behavior to spot bad actors.
In short, the takeaway is that merchants must continue to spend on e-commerce fraud detection systems, boosted by AI and machine learning: improving the efficiency of detection and mitigation measures. Having the right payment gateway on your side is the best place to start.
Top 7 Payment Gateway Security Measures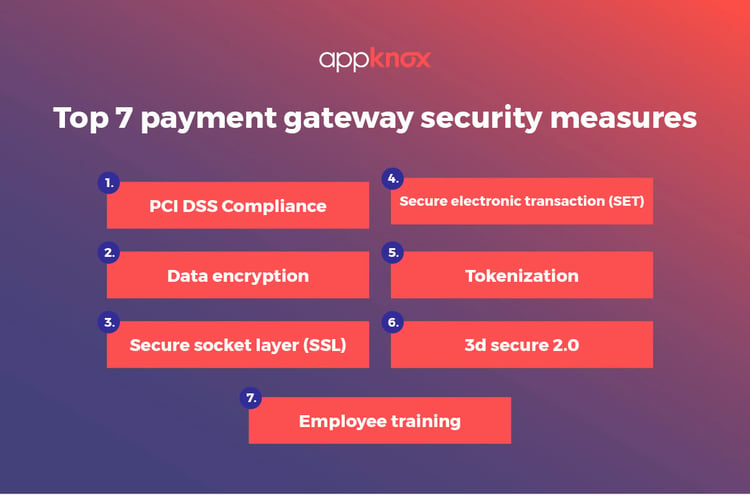 1) PCI DSS Compliance
Payment Card Industry Data Security Standard, also known as PCI DSS, is a set of compliance rules and security regulations that are implemented by the major card schemes. PCI DSS compliance is a requirement for any business that processes credit or debit card transactions. Adhering to the compliance schemes ensures a secure environment for credit and debit transactions to take place, without details being vulnerable to card theft and fraud.
It's important for any business that accepts online payments to understand PCI DSS standards so they can make the right choice when it comes to selecting a payments partner.
2) Data encryption
Encrypting data is the main method that payment gateways use to secure sensitive transaction data. When you enter your card details at the checkout the payment gateway will encrypt the data. Encryption turns the data into another form, or code so that only people who have access to a secret key. The payment gateway will decrypt the transaction through its own private key. Doing so drastically decreases the possibility that the data can fall into the wrong hands.
3) Secure socket layer ( SSL )
Secure Sockets Layer, or SSL, is a security technology that creates a safe between a payment provider and a customer's web browser. Any data that's communicated via the SSL is encrypted. All web browsers can have an SSL.
If a website is processing a transaction directly, then it should have SSL in place. However, this isn't a requirement if the website's visitor is redirected to a secure checkout page on the domain of the payment gateway, as the payment gateway will then provide the SSL link to the browser.
4) Secure electronic transaction ( SET )
Secure electronic transaction or SET is a system and electronic protocol that encrypts the payment data of credit cards. Jointly designed by the major card schemes VISA and Mastercard, SET conceals all personal details on the card, which prevents fraudsters from accessing the information. SET also blocks merchants from also seeing that personal data.
5) Tokenization
Tokenization is the process of converting the card holder's sensitive data into a security token. Creating a token involves hashing, encryption, and secret keys. As the card schemes prevent merchants from storing card numbers unless they are completely compliant with PCI DSS guidelines, having a payment gateway that uses tokenization is your best bet. Tokenization increases security because sensitive information is only sent once over the internet, once the token is created, it's then used for future payment requests.
6) 3d secure 2.0
3D Secure 2.0 (3DS 2.0, 3DS2 or EMV® 3-D Secure) is an authentication protocol developed by EMVCo to address the issue of customer authentication in online payments. When the customer has entered their card details, they will receive an extra step to verify their payment with their bank, usually via a password. It provides both the merchant and the customer an extra layer of protection against chargebacks and fraud - while facilitating a frictionless and seamless payment experience across different channels.
7) Employee training
Of course, it's important to ensure that everyone who works in processing payments is aware of the latest regulations and compliances. Usually, regular training and exams are conducted internally to ensure that all employees know how to effectively handle payment data, what to do in a data breach, and effectively inform their customers. Having the right information in the employee knowledge base ensures that everyone is on the right path to crack down on fraud.
Conclusion
Wherever there's a lucrative opportunity, fraudsters won't be far behind.
Crushing fraud shouldn't be your end goal. It's also essential to manage it with speed and precision, so you can deliver an improved customer experience and keep conversion high. Having the right payment methods on your side is the first step to ensuring the safety and security of your payment transactions.