In today's digital world we all are surrounded by multiple devices which are made to make our life easier and better. Yet sometimes it gets tedious and stressful in managing so many devices at one go. Would'nt it be great, if we could use and control multiple devices at once? Today from the App Review category, we bring you an app that does exactly the same and really makes our life much better.
Introducing AirDroid
AirDroid is an amazing app which allows you to access and manage your Android phone or tablet from Windows, Mac or the Web. The best part is that, every communication is made possible wirelessly, and that too for free.
AirDroid makes your multi-screen life easier and more focused by helping you access and manage your phone from any computer, anywhere. You can send SMS, view app notifications, transfer files and fully control your phone on computer with AirDroid. Isn't it awesome? You can do multiple functions at one go with just this one app.
Key Features
Better focused: Get your call, SMS and app notifications mirrored to the large screen you are focusing on.

Better equipped: Now you can type with full access to a physical keyboard as well as a mouse. Transferring things becomes way more faster without looking for a cable. Better equipments means better life.

Better connected: AirMirror, a brand new way of interacting between PC/Mac and your Android. Your Android, right on your computer, right now.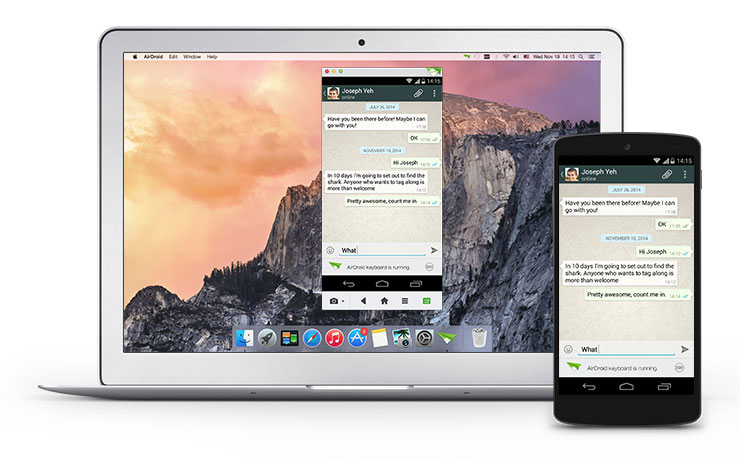 Things You Can Do With AirDroid Web
Contacts: View and edit all the contacts.

Music & Videos: Play and manage music & videos on Android and transfer them between Android and computer.

Ringtones: Set music as ringtone and export ringtones.

Screenshot: View the real time screen of Android devices, take static screenshots. (requires root)

Apps: Import and export .apk files.

Camera: See through the lens of both front and back cameras.

URL: Push url to Android and open it with default web browser.

Clipboard: Share clipboard content between Android and computer.
What People Are Saying
"AirDroid 3 blurs device lines even further with new PC and Mac clients, Android screen mirroring." - PcWorld
"AirDroid is an awesome app that has brought iOS 8 - like Continuity features to Android devices since long before Continuity ever existed." - BGR
"AirDroid on the web is still as awesome as it always was, but the new desktop clients, available for both Windows and Mac is pretty snazzy." - Lifehacker
Get AirDroid 3
With the new Desktop client, your Android, Windows and Mac work like one. So get it today and enjoy your multi-screen life.