Momoe is an amazing app for all residents in Bangalore that provides you with a cashless mobile payment experience. It allows you to make all payments with your mobile phone when you eat out, shop and commute at all the real places that include restaurants, retail shops, urban markets, schools and more in the Bangalore city.
Beneficiary Features

Momoe mobile app comes with a range of amazing features.
Instant checkout: All you have to do is to tap your phone for making instant payments at any of the Momoe enabled outlets.

Split your bills: You can now split your bills among all friends who are sharing the tab with you using Momoe.

Wide network: The Momoe app is expanding to a variety of outlets. It is growing and working so as to bring more and more outlets to your phone.

Rewards and credits: Get loyalty rewards and referral credits when you refer a friend.

Offers: Enjoy exclusive offers at places you visit often.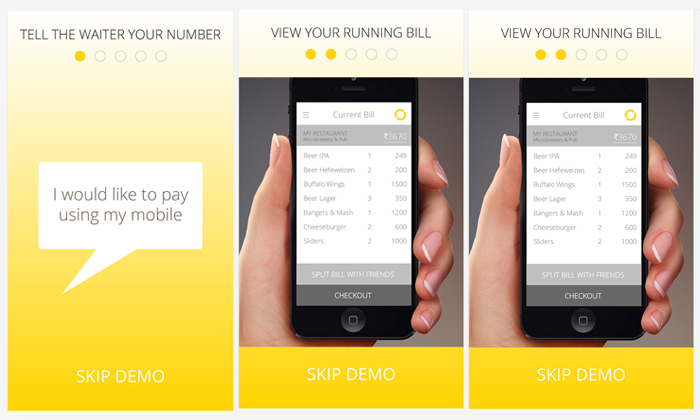 Simple and Safe
Momoe is an extremely simple app to use. Along with being simple, this amazing mobile app is also safe and secure to use. It's compliant with RBI's two-factor authentication process. All data flowing in and out of the app is encrypted with 128 bit SSL. Credit card information is stored in RBI compliant PCI DSS Level 1 certified database.
Different Payment Options
Momoe mobile app brings to you a variety of payment options. It lets you make the payment for all your bills whether you eat out or shop. You can pay with any payment instrument - through banks, cards or wallet.
View Your Bill Live
All you need to do is to give your mobile number to the merchant outlet. With your mobile number, you will be able to see you complete bill live on your smart phone. This ensures that you do not have to waste time waiting for your bill at restaurants. Momoe allows you to check your bill anytime as and when you want. View your bill live on your smart phone when you want, select your payment option that can be via your bank or your cards, pay the outlet and make a leave. It is that simple with Momoe!
No Frustrations
With the Momoe app you will never have to face any frustrating time of waiting for the bill, splitting it, swiping cards, counting cash, making mathematical calculations, entering a number of security PINs, etc. Momoe simplifies all your payment cycle with its amazing features.
Download Momoe app today to have a better mobile payment experience!