Today from the Internet of Things, we bring you a product that is a giant leap for wearable technology. Boogio is a technology for your feet. It delivers precision data that moves wearables way beyond simple fitness trackers. It comprises of tiny computers and sensory stickers installed to make any shoe - a smart shoe.
Boogio - Bionic Foot Sensors

REFLX Labs, Inc. is a Seattle-based technology firm dedicated to the development and distribution of wearable sensors for a variety of entertainment, health, wellness, and diagnostic applications. The company's flagship product, Boogio, is a foot-based, multi-sensor pair of technology devices and open wearable platform.
Boogio is a set of sensory stickers and tiny computers that activates any shoe to play in mobile and virtual reality games, track movement from the ground up to improve physical performance and health, and take hands-free control of technology.
It's basically a bionic foot sensor to capture body movement from the ground. Boogio is two devices that are placed in each of the user's shoes. These devices detect the force being placed on a user's foot, and send that information out to a mobile device. For the transmission of data, a Bluetooth module is attached to the side of the shoe. The team at REFLX Labs are experimenting with mobile games, virtual reality, fitness and training. They are also opening up the platform for developers to program new possibilities.
Features
Boogio is capable of measuring acceleration in any direction, pressure along the toe, arch, and heel of the feet, gravitational center, and core balance to better understand the effects of these forces on physical movement.

It's distilled to the lightest and thinnest design so it becomes almost invisible when installed on a person's favorite pair of shoes.

REFLX Labs is one of the first companies to use Samsung's Artik chips. The use of these chips will allow the wearable technology company to shift from a relatively large prototype device to a much smaller module on the shoe.

Boogio uses the proprietary sensors with 65,000 layers of sensitivity and accelerometers. It can sense gravitational force, center of balance and 3D acceleration of the feet.

The team at REFLX Labs has also made Boogio as hackable as possible to encourage experimentation.

Boogio works with Windows, Mac, iOS, and Android. Any Bluetooth 4.0 Low Energy device.

Current battery technology allows Boogio to run continuously all day.
Specifications
Weight is 30 grams per foot, or about 1 and 1/3 ounces. A typical athletic shoe weighs 14 ounces.

65,000 layers of pressure sensitivity on the sensor sticker.

Polymer Li-Ion cell battery

BLE connectivity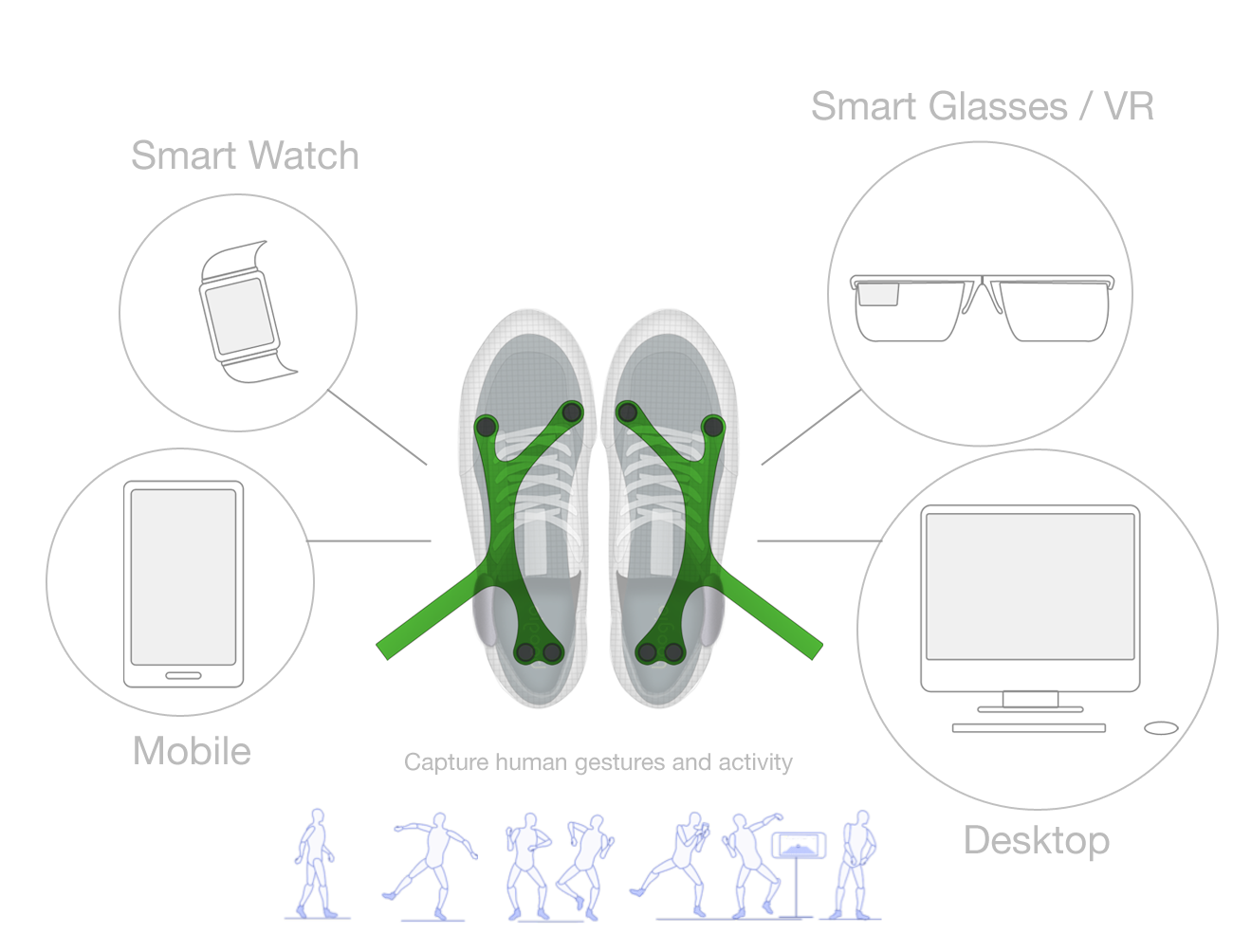 Become a Developer For Boogio
How awesome will it be if you get a chance to share your innovative ideas with Boogio and be a part of their Alpha program! If you are a company or organization that is interested in testing their technology, you can contact them here.
Order a Boogio Developer Kit to get started. It inclues: Two Boogio Clips, Two Sensor Stickers, Charging cables and iOS Boogio App Software development tools.
Medicine and Rehabilitation Solutions
REFLX Labs is partnering up with Florida Hospital to develop new rehab solutions for pediatric patients using the Boogio foot sensors. This enables the two teams to work together to make applications for Boogio sensors which slip into a user's shoe. These will then transmit data about how someone is walking for logging and evaluation.
The use of these sensors is being investigated by The Sports Medicine and Rehabilitation group at Florida Hospital, to be used as a training device for kids who work on the toes or balls of their feet.
The video below provides a brief introduction to Boogio.
Source: REFLX Labs, GeekWire