From a carry-on luggage which keeps you smart and connected throughout your travel, to a smart sensor which nurtures over your plants, Internet of Things never ceases to amaze us with its advancement in technology and innovation, making our lives easier and better. Today we bring you another product that's been generating rave reviews for its awesome features.
Riding With LIVALL Means Riding With Joy
The team at LIVALL focuses on the innovation of riding equipment and aims to provide cyclists a safer yet more joyful riding experience by combining the smart technology with the passion for cycling.
In doing so, they brought out five awesome products which fulfill their aim in making the rides of cyclists, a joyful and memorable experience. These products include - Bling Helmet, Bling Jet, Phone Holder, Nano Cadence Sensor, and LIVALL Riding App.
LIVALL Bling Helmet
It's the first smart helmet which integrates music, communication and smart lighting. It's built-in Windbreak Mic, 3-axis G-sensor, Bluetooth Speaker and LEDs on the top and back make it the smartest as well as extraordinary.
Key Features
Smart Lighting: LIVALL Bling Helmet makes you look outstanding and unique with its 8 colored LED lights which serve as direction indicators as well as 80 colored LED outline lights.

Music: Now you can cycle to the beats with LIVALL Bling Helmet. Enjoy music without earphones with the built-in bluetooth speaker.

Phone Call: Stay connected during your ride as the Bling Helmet as well as the built-in mic enable you to take incoming phone call or dial back.

Walkie-Talkie: How cool will it be if you have Walkie-Talkie function enabled in your helmet? Well the wait is over as Bling Helmet allows you to communicate whenever you want with its Walkie-Talkie feature. Voice messages gets automatically played and text messages gets translated into voice messages when in riding mode.

SOS Alert: LIVALL Bling Helmet takes the safety of riders to the next level. The outline LED lights will automatically display SOS signals and your emergency contacts will be notified immediately. Now get the desired help in time.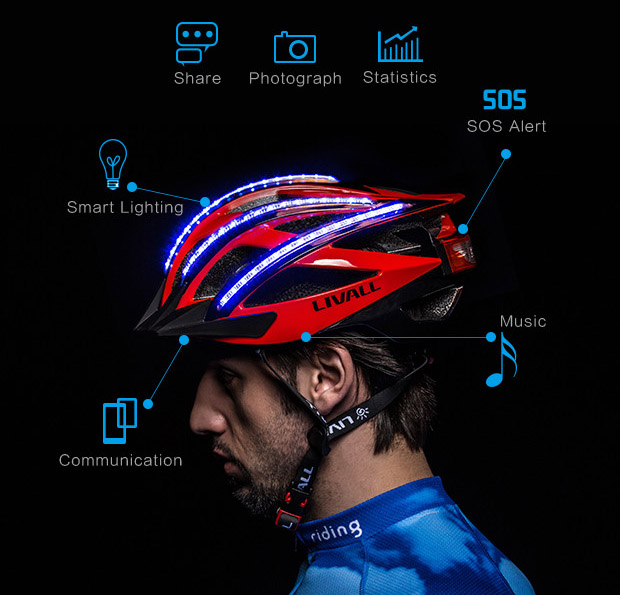 Bling Jet
To enable the Bling Helmet use the functions of Smart Lighting, Music, Phone Call, and Walkie-Talkie, the Bling Jet serves as a remote control for this purpose. Apart from this, it can also be used to control the phone through the LIVALL Riding App to take photos or shoot short videos by simply pressing the camera button on the Bling Jet.
Nano Cadence Sensor
LIVALL Cadence Sensor is the SMALLEST cadence sensor in the world and it's already been patented. With this sensor set on your bike's crankset hole, the LIVALL Riding Appp can show the cadence of your cycling and based on that it will measure your speed, traveled distance and burned calories. Witness these numbers go up and boost your performance accordingly.
Phone Holder
This LIVALL Phone Holder, made up 7075 high-strength alloy, keeps your phone firmly. It also ensures that your phone never runs out of battery again as it carries a portable power bank inside.
LIVALL Riding App
Make every cycling trip unforgettable with LIVALL Riding App. It's a professional cycling app for cyclists/bike riders. The best part about this amazing app is that it will display your data statistics like slope, cadence, speed, altitude, heart rate, etc. Also take pictures during the ride and create your own road book with the app to keep your memories preserved. You can even share these memories on social media pages.
This app also enables you to upload your real-time data statistics based on your road map and photos to share your riding adventures and experience with your friends. It can also perfectly sync with different smart devices like smart watch that measures your heart rate, pedometer, etc.
How LIVALL Was Founded?
The full name of the company is Shenzhen Qianhai LIVALL IOT Technology Co., Ltd, simplified as LIVALL. One of the founders fell off his bike and broke his arm. He wanted to help others avoid the same situation, and provide riders a safer yet more joyful riding experience. That was the initial reason of LIVALL's existence.
$99,446 USD raised by 677 people in 7 days on Indiegogo brought this project to life. LIVALL is not just the product's brand name, it's also the team's spirit. Like the team says - "LIve and ALL with LIVALL."
Contribute today on this project and create a safe and joyful cycling experience.