Slack is a platform for team communication. With Slack you will be less busy since Slack aims to make your working life simpler, more pleasant and more productive. You get everything you need in one place instantly on search and Slack helps in keeping everything available to you wherever you go. It's the perfect team communication for the 21st century.
Companies using Slack
Good news is that Slack is free to use for as long as you want and with an unlimited number of people. Just imagine you have nothing to pay and you will get all your team communication in one place, instantly searchable, available wherever you go. That's what Slack has been developed for. This is the reason why companies like Adobe, AirBnB, eBay, BuzzFeed, Expedia, PayPal, The New York Times, Intuit, NBC Universal and more are using Slack for their team communication today. These are just a few among the hundreds others who are using Slack and bringing a change.
Platform
Slack has fully native apps for iOS and Android platforms to give you the full functionality of Slack wherever you go. You get access to everything from the palm of your hand: file search and filtering, starred items, the team directory and, of course, all your messages.
Now everything is perfectly in sync as you move between your desktop, iPhone, iPad, or Android device.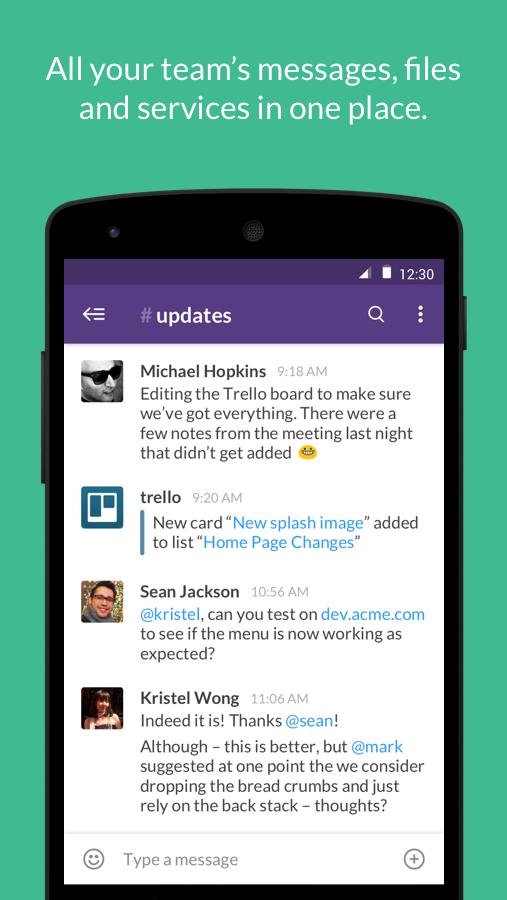 No More Switching Between Apps
Slack works with the services that your team already uses. With Slack's integrations, you no more have to face the hassles of switching between apps. Slack's integrations ensure to keep all your team's information in one place. It lets you automatically pull information and activity from outside tools into Slack and makes all required info that is relevant available timely on instant search. Slack integrates with several external services today and the developers are adding more to its list of integrations!
Highlights
Slack Technologies Inc. has done a great job taking care of all the major requirements for team communication. The key highlights for the amazing Slack app include:
Slack facilitates real time messaging and file sharing and supports both one-to-one and group conversations.

It ensures that no one from your team fellows is left out of the loop with its powerful search and archiving feature.

Slack boasts of dozens of integrations that include tools like Dropbox, Asana, Google+ Hangouts, Twitter and Zendesk.

The developers are working on adding many more new integrations and features.

Slack has space for inline images and video with rich link summaries giving context without leaving the app.

Slack is instantly synced across all devices so that you can access any piece of information from anywhere anytime.

Slack can be configured to send notifications for desktop, mobile push and email.
Together these features enable Slack app to make your working life simpler, more pleasant and more productive. Being simple to use and being powerful – these two aspects of Slack app together make it a favorite of all who have ever used it! In the words of the developers, there are just two categories of people, "One who love Slack and others who haven't used it till now". It is undoubtedly an excellent online communication tool. It has ample of useful, rich set of tools, settings and options that make your team communication not only easier, but better. And you must never miss on an app like Slack that is making doing business easier.