Security is something we need to take care of every single day. With the increase in data and the number of devices, security has become a critical affair. Most of the times, security is neglected due to need of convenience. What if we could have both instead of choosing any one?
Today from the Internet of Things, we bring you Nymi Band which is here to simplify your everyday life.
Nymi - The Best Of Both Worlds
Nymi Band takes biometric technology to the next level. It's a wearable device that combines both convenience and security, using HeartID™ - the proprietary biometric authentication technology of Nymi. Now say goodbye to access cards, long passwords and hard-to-remember security questions. Nymi makes it possible for devices and services to just recognize you.
Secure, Continuous Authentication
HEART ID™ - Nymi's proprietary authentication algorithm leverages a user's electrocardiogram (ECG) as a secure biometric identifier.

NYMI BAND CORE -The core of the Nymi Band contains a secure hardware element to keep communications safe, an accelerometer and gyroscope for gesture recognition, and a haptic feedback motor for various types of notifications.

CONTINUITY CIRCUIT - Using the Nymi Band's continuity circuit, the device will remain in an authenticated state until it is removed from a user's wrist.

MATERIALS - The Nymi Band is made of high quality hypo-allergenic materials (ISO 10993 compliant) along with an IPX7 water resistance rating.

STATUS LEDS - The Nymi Band's LEDs communicate battery-level, connectivity, and other important states.

NYMI COMPANION - The Nymi Companion is an app that lets you authenticate to your Nymi Band. The Nymi Companion is available for iOS and Android.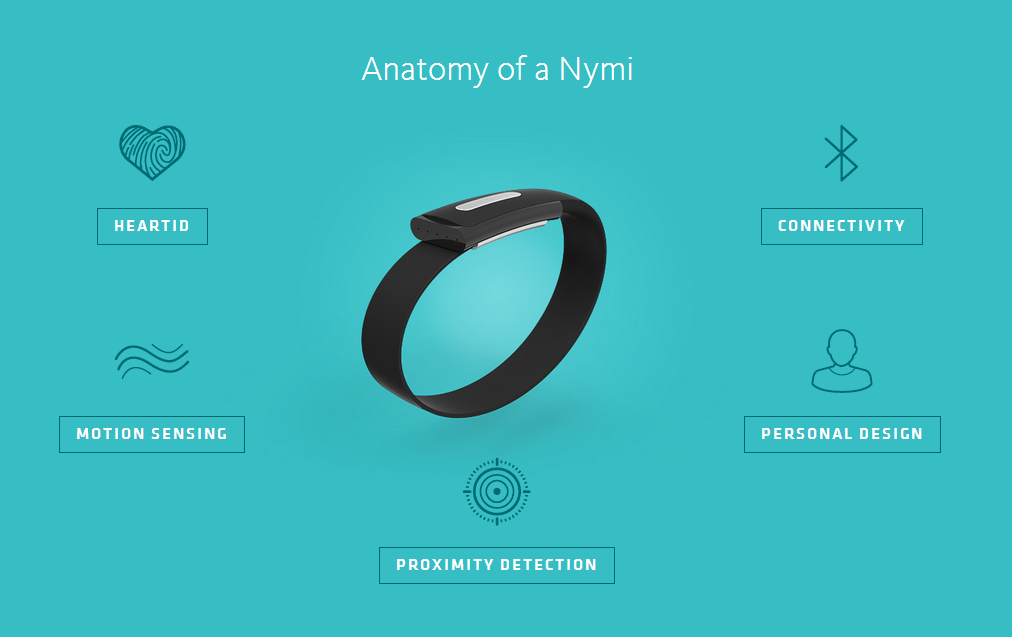 How The Nymi Band Works
One of the most amazing feature of Nymi Band is that it's able to confirm your identity using your heart's unique signature. It can then be paired with the devices and services of your choice, creating a world of seamless experiences. With the Nymi Band, strong and multi-factor biometric authentication can be deployed to any application, location or device, running on any mobile, laptop, desktop or cloud platform.
Time To Build
In order to build the Nymi ecosystem, the team works closely with its international developer community. They are on the lookout for interested people in developing applications for the Nymi Band. One can also learn about some of the applications that have already been developed for it. Click here to know more about the community and its development.
Get Nymi Band and let your heartbeats replace your passwords. Make your life a secured and continuous authentication experience.
Sources: Nymi